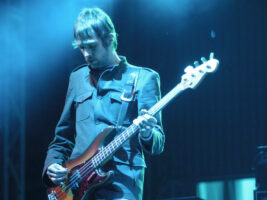 Andy Bell didn't own a bass before being asked to audition for Oasis
Former Oasis bassist Andy Bell didn't actually own a bass guitar before he auditioned to be in the band.
Bell joined the Brit-pop outfit in 1999, following the departure of Paul Francis McGuigan, known as "Guigsy".
READ MORE: Noel Gallagher "never played guitar standing up" prior to first Oasis show
Bell is also a vocalist and guitarist in the band Ride, but remained with Oasis from '99 right up to their split in 2009. He has called his time with the band, known for its clashing brothers Liam and Noel Gallagher, a "huge learning experience", and reflected on his audition process in a new interview.
Speaking to Guitar World for its '90s print issue, Bell recalls how he didn't even own a bass prior to his audition: "I hadn't played bass to any great degree before I tried out for Oasis. So when I was invited to come out, when I got on the plane, I didn't have a bass," he says.
"So I couldn't even try to learn anything before I got there. But I knew the chords to the songs, and I did my best to play the root notes; but I have to say, I probably wasn't that good on the first run-through.
"The other thing was that I was playing this bass with my fingers, Noel and said, 'Guigsy played with a pick. Try it that way.' And when I did, I found I could attack the bass in a way that sounded a lot more like Oasis."
Bell says he went away from his audition and learned the band's catalogue, spending "hours" over the Christmas holidays to learn all the material needed. Elsewhere in the interview, he also confirmed that being part of the band was just as "tumultuous" as it seemed to those outside of it.
Andy Bell is set to play at Riot Fest with his band Ride later this month, find out more on the Ride website.
The post Andy Bell didn't own a bass before being asked to audition for Oasis appeared first on Guitar.com | All Things Guitar.
Source: www.guitar-bass.net