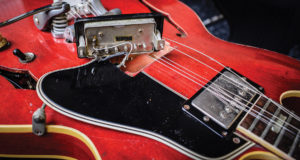 Andy Scott's ES-335 – Block Buster
Andy Scott's red ES-335 starred on the Sweet's remarkable string of glam hits in the early 1970s. Steve Clarke gets up-close with this storied Gibson and busts a few myths about it along the way…
Before Ballroom Blitz, Teenage Rampage and Hell Raiser lit up the charts, Sweet guitarist Andy Scott – then a member of Welsh psych-rockers The Elastic Band – saw Deep Purple's Ritchie Blackmore playing a Cherry '61 ES-335 fitted with a Bigbsy B5 and simply had to have one of his own. Scott's guitar – housed until recently at the British Music Experience in London's O2 Arena and now in residence at Liverpool's Cunard Building – was a '63 block-neck model purchased from a store in Manchester for the princely sum of £100 shortly before he joined the Sweet in 1970.
When Scott first encountered the instrument, it had a small battery-powered treble booster fitted where there's now a metal cap on the top of the lower cutaway. It delivered a driven tone but made the guitar feed back too much and was removed as a result. It was also speculated that the guitar had been assembled from two separate ES-335s, as it features two distinct serial numbers: one on the back of the headstock and another on the orange label inside the body. The story goes that this was because a fire had broken out in the warehouse of Barratts Music Shop, damaging two guitars but leaving one body and one neck unscathed.
The Bigsby fitted on Andy's 335 is a B5, as opposed to the B7 units more commonly seen on Gibson semis
No Smoke Without Fire?
To get to the bottom of this, we managed to track down Brian Higham, the former manager of Barratts, now retired and living on Anglesey in North Wales. "I worked there on and off from the late 50s to 1978" he recalls. "The fire was around 1967 or '68 and started in the drum shop on the corner of Oxford Road, and the guitars were at least 100 yards away, separated by a pub called The Oxford but part of the same building."
Brian insists that no guitars were involved in the fire but remembers one of the staff had to jump from the first floor window when the fire broke out. The fire even made the local press at the time. He also suggests that one of the staff may have mentioned the recent fire in an attempt to provide a prospective buyer with a credible story to explain the serial number discrepancy, before selling the guitar at the discounted price of £100. According to Brian, second-hand 335s would sell for anything between £100 and £125 in the late 60s. Will taking a closer look at the guitar reveal the truth?
There's a ground wire attached to the bridge pickup – a mod that may have been done when the guitar had its now-removed treble booster fitted
Behind The Glass
We arrive at the Cunard Building at 7am and have roughly an hour to examine the ES-335 as it needs to be back under glass in time for the British Music Experience's 9am opening time. The guitar's outline is very much a transitional example – not quite the full 'Mickey Mouse ears' of the earliest ES-335s but its horns aren't as narrow as they would become soon after. The Cherry finish has faded a little as expected, with a light maple figure visible through the translucent red.
The instrument's time under lock and key in London and Liverpool has helped preserve it, although it bears the scars of a headstock break that took place in 1978, when Scott spun around on stage in Australia and smashed it into the drum riser. Luthiers at Aussie guitar company Maton were responsible for the repair.
Inside the bass-side f-hole, the orange label is stamped with the serial number 120808, while the back of the headstock features serial number 121813. There could be several reasons for the discrepancy – simple human error is most likely, as the internal label would have been applied at a different stage in the production process to the headstock stamp. Someone may simply have typed the wrong number on the label.
At some point a treble booster was added to the guitar, but it was removed and the hole was plugged
It's not surprising that the instrument was first thought to have been made from two guitars as definitive information about Gibson's numbering system at the time is still hard to track down. On the headstock it looks like a couple of the numbers have been written on it with a ballpoint pen, probably when the headstock was rubbed down following the break. The original stamp is still clearly impressed, though.
The respray on the neck is actually a much darker cherry than the rest of the guitar and the lacquer is quite thick, especially at the heel where it joins the body. Around 1973 a small white gouge in the black lacquer was visible just above the 's' on the Gibson logo but this was possibly corrected by a touch up during the Maton repair.
The guitar's original tuners were replaced first with Schallers, and now with these tulip-buttoned Kluson units
'Stock Answers
The thickness on the low E end is 13.84mm and at the D-string tuner it measures 14.27mm. The taper could at first seem to be the wrong way around but this would have been the result of sanding after the neck break in Australia. We find too much relief in the neck and take the opportunity to adjust the truss rod accordingly.
The guitar's machine heads are the Kluson plastic tulip type although these are not the originals. In 1971 the guitar still had the original double ring type Klusons that were introduced in late 1960, but by 1972 what look like metal button Schallers were fitted. The low E tuner casing on the back of the guitar today is coming away and slipping, as is the D tuner. The headstock has a 17 degree pitch, typical of Gibson's construction for the time, while its width at the top is 76.61mm.
The headstock was damaged on stage in 1978 and you can still see evidence of the repair
Right In The Neck
The neck is made of Honduras mahogany and the pearl inlay block markers are still a neat fit with no noticeable shrinkage. The fingerboard is generally in good condition and the Brazilian rosewood is smooth. Nonetheless we give it some oil as the 'board is somewhat dry. The neck is very slim and comfortable to play and you can see the Maton repair through the lacquer. The neck depth is 19.55mm at the first fret and 23.54mm at the 12th, while the neck width is 52.09mm at the 12th fret.
The bone nut is a replacement that measures 42.29mm in width and the slots are cut rather wide and deep. The first fret clearance is just about right but the gaps in the binding at the end of the fingerboard before it meets the nut show that shrinkage has occurred.
The frets measure 2.76mm, are non-original and much worn: every fret is flat and almost reminiscent of the 'Fretless Wonder' Les Pauls. Andy assures us that this helps him slide up the neck as there is no high fret wire to restrict movement. The binding has long since lost the nibs on the edge of the fingerboard, the action is very low and surprisingly there is no choking out.
Five of the ABR-1 bridge's saddles are nylon
Body Work
The thickness of the body is a comfortable 44.81mm. The Bigsby fitted to this guitar is a B5 rather than the traditional B7 – we actually like the look and most importantly, the tuning is stable. There's a small hole with a grounding wire coming out of it just in front of the unit – this goes under the area originally intended for a stop tailpiece.
If you look just behind the Bigsby on the surface of the guitar there are tiny dots in the lacquer and it is slightly duller in bright light. We're sure this is a reaction to a sticker that Andy placed there in about 1972 which stayed on for several years. The glue has reacted with the lacquer here but thankfully it has not penetrated right through. Incidentally, the sticker was an anti-smiley face with the word 'shit' written underneath it: it famously wasn't spotted by the cameramen when the band appeared on Top Of The Pops…
The guitar weighs in at 9.18lbs and the weight is very evenly distributed. The back of the instrument is in good condition with just two small patches of wear that look as though some touch up lacquer has been applied at some stage in the past. There are two small holes that look like additional strap buttons had once been fitted but they don't appear to have been in situ for long as there is no strap wear around the holes. The front of the guitar has lots of lacquer checking, especially around the f-holes, but the general condition is good overall. The guitar also features later '62-style reflector knobs – the upper section measures 17.61mm and the lower skirt is 26.1mm. The pots are Centralab units.
The neck join looks like it was a Gibson factory job, and this makes the legend that Andy's 335 was a hybrid of two fire-damaged guitars unlikely
Under The Hood
We plug the guitar into a small Fender amp and there's no output, but a few blasts of switch cleaner bring the pots back to life. The controls are very noisy and the jack socket is intermittent but this is remedied by some very fine wet and dry paper on the end of a screwdriver (smaller than a quarter inch jack) inside the socket. After twisting it around several times, it's just enough to clean off the build-up of tarnish, eliminating the bad contact. The treble tone control doesn't work until we move a wire inside the f-hole to clear the short. Once fully functional, the tone controls have a lovely smooth taper.
Lifting out the neck pickup we take a reading of 8.34k ohms. The patent number sticker is missing from underneath but there's nothing alarming about that as they do sometimes come off. The pickup covers have never been removed, as the solder joints are very clean and there's no evidence of new solder. The other obvious clue that this has always been one guitar and not two is that the neck joint at the end of the fingerboard appears just as Gibson would have done the job originally. There is nothing to suggest any additional work has taken place.
The case still has the Sweet's logo on it, as well as Andy Scott's signature
The routing is very clean and the red lacquer just under the pickup surrounds (stamped M8 788) is slightly darker having not faded. The screws are also original. The bridge pickup gives a reading of 8.79k ohms and retains its patent number sticker. There's also a ground wire soldered to the pickup base but is not a Gibson spec. This may have been done when the treble booster was fitted, as its higher output and sensitivity would have increased noise. Once again the cover looks to be original and shows plenty of wear.
Pictures of this guitar from around 1971 show metal saddles on an ABR-1 bridge with no retaining wire. The bridge today has five nylon saddles, one metal one on the bottom E string and also a retaining wire. The threaded posts upon which the bridge sits are 72.88mm wide point to point: the bridge is 84.57mm wide and is a tight fit.
The body label features a different serial number to the headstock
Sweet Music Everywhere
Using our small Fender for testing, the bridge pickup is bright with lots of top end harmonics on a clean setting. Flick to overdrive and it is a hellraiser: no mud, just hugely dynamic and a perfect riff sound. The middle position has a lovely openness and the neck unit is a warm tone monster. Backing off the volume tames the attack but leaves a lovely edginess and makes for a really expressive sound.
To hear it for yourself, search online for video footage of Andy on Musikladen in 1974 playing Sweet FA, which not only demonstrates his ability and control over the Bigsby but the tonal variety that he achieved using this guitar.
If you delve deeper, beyond the band's hit singles, you'll hear just how wide a tonal range this guitar offered in Andy's capable hands. Behind the visual glitter of the glam era there was real substance and ability and The Sweet were undoubtedly a well-drilled band of accomplished musicians.
Special thanks to Kevin McManus and Olly Taylor at the BME and of course Andy Scott. Steve Clarke is an experienced guitar tech who can be contacted at famousfrets.comThe post Andy Scott's ES-335 – Block Buster appeared first on The Guitar Magazine.
Source: www.guitar-bass.net