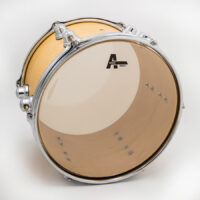 Attack Drumheads now available in the UK and Ireland exclusively from Barnes & Mullins
Barnes & Mullins are delighted to confirm the exclusive UK and Ireland distribution of American percussion brand, Attack Drumheads.
Comprising an extensive range of double-ply snare, tom and bass drumheads suitable for a broad range of styles, sounds and players, the DNA of Attack Drumheads is amazingly simple: Quality materials, innovative designs, artistic Craftsmanship, and great sound.
Attack Drumheads feature an innovative pressure-fitted steel hoop to hold the head firmly in place under the most stringent demands, whilst also creating additional mass that guarantees greater sustain and pinpoint tonal focus.
Attack Drumheads also benefit from a unique Dura-Coat material. Manufactured in the USA, Dura-Coat is specially formulated to adhere to Attack's Dynaflex Polyester film to ensure players all-important durability whilst also delivering excellent response and tonal capabilities.
Standout series include Attack's TONERIDGE 2 tom heads that consist of a 7mm construction paired with a unique split-level design for a dark, punchy, and controlled tone; the LOGICDOT snare head that is equipped with a revolutionary uncoated clear oval top dot ('travel area') for players to easily identify where to play ghost notes; and Attack's patented ORBIT bass drum head series that captures the low frequencies and durability of a double-ply head whilst maintaining the beautiful open sound of a single-ply head.
Additionally, Attack's range of PROFLEX 1 drumhead packs offer a great value solution to a variety of drumhead requirements. With packs containing tom, snare and bass drumhead combinations, they give drummers the freedom to easily upgrade all elements of their drum sound.
Attack Drumheads retail from £11.45 and are available to order in the UK and Ireland now exclusively from Barnes & Mullins – www.bandm.co.uk / sales@bandm.co.uk / 01691 652449
The post Attack Drumheads now available in the UK and Ireland exclusively from Barnes & Mullins appeared first on Music Instrument News.
Source: musicinstrumentnews.co.uk