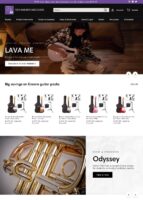 Brand New Ivor Mairants Webstore Launched
Ivor Mairants Music Centre has launched a brand new, super-fast and responsive webstore, with a completely fresh look, whilst loading on all platforms including desktop computers, laptops, tablets and mobile phones.
Utilising incredibly fast search engines, visitors can browse alphabetically or by price structure, through 69 brands and 5,000+ products within an enormous catalogue of Fretted Instruments, Guitar Accessories, Amps & Electronics, Sound & Light, Stands, Percussion and Orchestral products.
Each category from this huge product range is organised by brand and type, with lightning-fast drop-down menus. Product pages offer detailed information, accurate specification breakdowns, high quality images and 360º zoomable views on hundreds of products.
With a quick view 'Add to Cart' feature, easy checkout system and literally thousands of products always in stock, purchasing online couldn't be easier.
Orders are processed securely with a fast and accurate response and we now support 'Express Checkout' with PayPal, Apple Pay and Shop Pay as well as accepting Visa, Mastercard and Maestro cards.
Customers can also take advantage of ongoing Special Offers, along with Free Next Day Delivery in the UK on orders over £19.99.
With a legacy that dates back to the late 1950's as Britain's first specialist guitar store situated in the heart of London's West End, Ivor Mairants Musicentre has continued to supply amateur and professional musicians at all levels of ability.
This passion and dedication continues, with an enormous and ever-increasing range of high-quality music industry products, all now available to order online from the exciting new Ivor Mairants Musicentre webstore.
As a thank you for visiting our new site we are offering an EXTRA 10% OFF our already competitively priced products during May.

The post Brand New Ivor Mairants Webstore Launched appeared first on Music Instrument News.
Source: musicinstrumentnews.co.uk