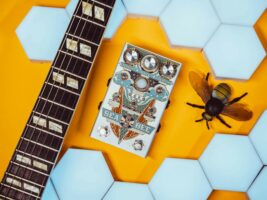 Beetronics adds to the swarm with the Seabea Harmochorus
Beetronics has unveiled the new Seabea Harmochorus, a multi-chorus pedal that took over three years to develop.
READ MORE: Pedal Playhouse's joyous animated pedal demos are like nothing you've ever seen
While the Seabea is a standard multi-chorus pedal, by digitally controlling the chorus delay time, the manufacturer has created a pitch shift modulator that is hoped to add to and inspire new genres
The pedal includes three Chorus and three Harmochorus modes, which offer three ramp shapes, tamp tempo and a four-way tone filter.
In addition to this there are two stereo output opinions, 16 onboard presets, full MIDI control, expression in, external tap and four input level options to allow users to proves guitar, bass and synthesisers.
You can see a demo of the pedal below:
The company has not released a pedal since mid-2022, when they came out with the Zzombee Filtremulator – an analogue multi-effect filter pedal with a "never-heard-before" honey patented cross tremolo. This is where the tremolo pulses between the fundamental and a low octave.
We reviewed the pedal when it was released back in August and we scored it 9/10 due to it's creative rendition of the tranditional multi effects pedal. This was certainly a step in the right direction for Beetronics, who had been criticised of being almost too consistent.
"Picking up where the synthy Swarm left off, this unique device takes things much further with glitchy octaves, pumping tremolo, deep phase/wah throbs, slow filter sweeps and fluttery sample-and-hold textures" says the reviewer. "Yep, this time they've really gone for it."
The Beetronics Seabee Harmochorus is available at dealers for £409.
For more information, head to Beetronics.com
The post Beetronics adds to the swarm with the Seabea Harmochorus appeared first on Guitar.com | All Things Guitar.
Source: www.guitar-bass.net