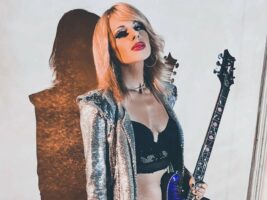 Can we expect an SE version of the $11,700 PRS Orianthi signature?
PRS has already kicked off the year with the release of the SE DGT, a drastically more affordable version of the Core DGT David Grissom Signature. However, the SE-ification continues as an SE version of Orianthi's $11,700 PRS signature guitar which is currently only available as a private stock model, could be on the cards.
READ MORE: Marty Friedman explains how "perfectly tuned and quantized" American music is different from Japanese music
In an interview with Premier Guitar, Australian hard-rock guitarist Orianthi revealed that she is in talks with PRS about producing an SE version of her signature model. This would be a big step in the direction of accessibility, as it is currently only available for $11,700.
"We're in talks right now. Probably an SE model coming off that one," reveals Orianthi. "Because a lot of people wanted to buy it and they couldn't afford it.
"It's very expensive, but it's very well made. That is a dream guitar that was brought to life by the PRS team. Paul has really dialled it in. He picks the right woods, and everything is quality. They're like Porsches [laughs], you know what I mean?"
Orianthi's Private Stock PRS model is based on a one-off build, and it features a solid mahogany body and neck with a 24-fret rosewood fingerboard highlighted with an intricate Lotus vine inlay pattern. Let's just say – the high price tag is not a shock when you see the guitar.
The specifics of the potential SE model have not been mentioned, but fingers crossed that the same inlay pattern will remain as it's certainly eye-catching.
As for price, most PRS SE models range between $500 to around £1,000, so it is not clear how much it could cost, but compared to $11,700, a guitar around the £1,000 is significantly more affordable.
The post Can we expect an SE version of the $11,700 PRS Orianthi signature? appeared first on Guitar.com | All Things Guitar.
Source: www.guitar-bass.net