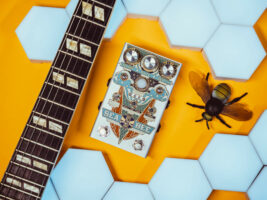 Beetronics Seabee Harmochorus review: Analogue chorus with digital control brings multi-modulation carnage
So this is what happens when the usual watery imagery associated with chorus pedals comes up against the insect theme of California stompbox mavericks Beetronics: a pollinator in a swimsuit.
READ MORE: Strymon Cloudburst review: a new standard for ambient reverb pedals?
What exactly is going on with the Seabee? It's a bucket-brigade stereo chorus, yes, but with much more than the standard wobbly textures to play with. That's because this is an analogue processor with digital control, including extreme manipulation of the delay time for a pitch-bouncing effect called 'harmochorus'.
That digital interface also allows for control of multiple parameters with just three knobs, and means the Seabee can store up to 16 presets. In short, if you're after a simple chorus pedal for your 80s soft rock covers band, turn back now while you still can, and run until you can run no more.
For the rest of us, here are the basics. Two of those three knobs are the chorus classics – rate and depth – with a third controlling the speed at which the effect ramps between two settings when you hit the left footswitch. There's also a three-way toggle to change the shape of that ramping, another for modulation mode, and a simple chorus/harmo selector.
But 'simple' is not a word that applies to anything else here – not least because the three knobs have alternative functions accessed by holding down the bypass footswitch, and these do different things in different modes. It can all get very confusing very quickly, even with the 38-page manual to hand, so we're going to start with the eight factory presets and feel our way from there.
In use
Do we have to plug this thing in? Can't we just sit here looking at it all day? There's no denying the absolutely unique brilliance of that enclosure design, taking the rococo extravagance of last year's Zzombee and dialling it up yet another notch. But no, you're right, we probably should find out what it sounds like too.
To be honest, the factory presets aren't great. They certainly show off the extremes of the Seabee's range, covering everything from traditional chorus to trippy bleepery; but if you want to get some real musicality out of this pedal, you're going to have to do a bit of tweaking.
Starting in chorus mode, it's easy to get away from that divisive Boss CE-3 sound and dial in something more modern and tasteful. The most obvious use of the second footswitch here is to ramp up to a much faster speed, Leslie style, and this works really nicely. But you can also push the modulation into the outskirts of vibrato and flanger territory, perhaps now using the ramping function to flip to a more extreme setting for a momentary burst of weirdness.
As a semi-conventional chorus pedal, then, the Seabee scores highly… but now we need to brave the harmo mode. This is, in a word, odd. With the central toggle set to 'dual' the effect simply bounces between high and low voicings, which can create some interesting pulsating noises; switch over to arpeggiator or random, however, and things get more complex – especially once you start fiddling with the alt control functions to change the pitch-shifting patterns.
Now we're dealing with something that sounds more like a rhythmic synth filter than any kind of chorus, and the only question is what you might actually use it for. From freaky flutters to swoopy stutters, it's all entertainingly bonkers, if verging on the unmanageable. You might well be able to create some magic out of this; just don't ask us how.
There are a couple more features to explore: the second port on the right can be used for a TRS expression pedal, which is handy, and also works as a MIDI input for external control of just about every parameter; and in the global settings you can switch the second output from dry (for standard stereo chorus movement) to wet with inverted phase (for enhanced ping-pongery).
The Seabee can be more than slightly frustrating – and if there's one word to describe the harmochorus mode, that word is 'niche'. Still, if you can accept its two-sided nature – sometimes serene, sometimes outlandish – it does have the distinctive tones to match its fantastical looks.
Key Features
PRICE £409 / $349
DESCRIPTION Analogue multi-mode modulation pedal with digital control and presets, made in the USA
CONTROLS Ramp/tone/pattern, rate/mix and depth/feedback/harmonies knobs; three-way ramp shape switch, three-way mode switch, chorus/harmo switch; ramp/tap and bypass/alt footswitches
FEATURES Expression/CV/tap/MIDI input; eight factory presets plus eight empty slots; buffered bypass, powered by 9-volt mains supply only (250mA current draw)
DIMENSIONS 143 x 91 x 67mm
CONTACT beetronicsfx.com, face.be
Like this? Try these
Asheville Music Tools ACV-1 £399
ThorpyFX Pulse Doppler £265
Caroline Somersault £239
The post Beetronics Seabee Harmochorus review: Analogue chorus with digital control brings multi-modulation carnage appeared first on Guitar.com | All Things Guitar.
Source: www.guitar-bass.net