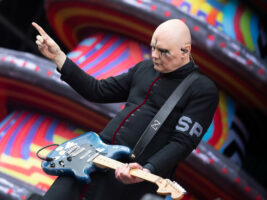 Billy Corgan says despite Smashing Pumpkins' success, "it was just constant criticism"
Billy Corgan of Smashing Pumpkins has opened up about facing criticisms over his career and his continued struggles with receiving praise from those around him.
READ MORE: Ed Sheeran sees no point in music critics: "Make up your own mind"
The singer appeared on a recent episode of the The Howard Stern Show, where he had a candid conversation about his relationship with critics both inside and outside the music industry.
"Even when we were successful, it was just constant criticism," Corgan told Stern. "Maybe there was a lot of praise, but I didn't hear it because when you're in that mindset you just hear the criticism. It's like if somebody talks to you for a minute and they say one small critical thing and that's all you remember about the conversation."
"So, that may have been my life. People may have told me how great I was every five seconds and I just didn't hear it," he said.
"But my memory was like we would get on stage and play to 15,000 people and I'd walk offstage and somebody would be standing backstage saying, 'You shouldn't have done that and you shouldn't have done this and people are mad and you're such an idiot.' That's what I remember."
Asked if his childhood had a bearing on his hypercritical tendencies, Corgan replied: "If your own parents tell you you're a fucking idiot and then the guy 15 years down the road is [calling] you an idiot and he's the manager of this band and this band and this band and they've had all this success, you're thinking, 'Well maybe that's just how it is. What do I know?'"
As Stern went on to praise the "masterpiece" that is Disarm from the band's second studio album, Siamese Dream, Corgan (who wrote the song) revealed that "Not once after that song did anybody in my life — anybody — pull me in a room and say, 'Can you give me more of that?'"
"They were like, 'Give me more of the ones that sell sausages.'"
He explained that Bullet with Butterfly Wings was him telling the world "'You want me to be this rat in a cage? Here I am,'" pointing out that even till this day fans and critics are still asking for more songs like that — something that, as he puts it, reconfirms everything his parents said.
"If you're not this, you're worthless. You have no value. If you're not willing to sacrifice in these ways, you're worthless. If you're not willing to do what we say, you're worthless."
The post Billy Corgan says despite Smashing Pumpkins' success, "it was just constant criticism" appeared first on Guitar.com | All Things Guitar.
Source: www.guitar-bass.net