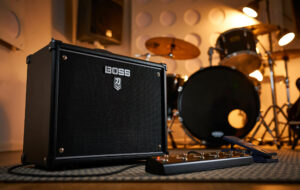 Boss Katana 50 MkII EX review: Not moving the bar, but polishing it
By our estimation there are at least forty trillion well-used and mildly beer-stained Boss Katanas in the backrooms of pubs, ready to be plonked onstage when all the bands thought they could borrow each other's amps. On forums they're so commonly recommended as a starter gigging amp the very act of telling someone to buy one is a meme. Need an affordable, loud amp to throw in a practice space? Boss Katana. Need something in the back of the van in case your main amp blows? Boss Katana. Starting out and need a combo that's more than loud enough to gig, and don't want to mess around with pedals and tubes? Boss Katana.
READ MORE: Solar Guitars Chug Pedal review: It does the thing
You get the point: they've become the standard for any amp use-case that needs to be affordable, versatile and loud. Let's check out the very latest in the line: the Katana 50 MkII EX.
So what's new?
Very little, really, which isn't too surprising given the change hasn't warranted a "MkIII" label. The main addition is compatibility with Boss' latest GA-FC EX foot controller, but also joining the GA-FC jack is the line-out socket like the 100-watt MkII models, one separate from the headphone/record output. Plugging into it doesn't mute the speaker, and it's not affected by the master volume: it's for the Stereo Expand previously unavailable on the 50-watt Katana MkII feature to connect a second Katana MKII. Though in the absence of another Katana the most realistic use-case for the new output could be using it in lieu of a mic in front of the speaker; running it directly into the front-of-house while keeping the stage volume provided by the amp itself.
There is one feature still missing from the 50-watt breed of Katana amp, however, and that's an effects loop. The MkII did add a power-amp input, AKA an effects return, but no corresponding effects send. Presumably, Boss' logic is that if you're purchasing this kind of amp your effects setup isn't complicated enough to warrant a loop – but you might be looking for a way to embiggen the sound of a floor modeller.
We gave it a whack with a few different modellers and preamp pedals, and yep, it certainly works. We can't really offer you any big revelations gained from plugging into a clean solid-state power amp – whatever you put in there comes out of the speaker, loud as you'd like. It is undeniably handy to be able to entirely bypass the preamp, given the glut of absolutely excellent amp-modelling pedals on the market, from the HX Stomp to a UAFX Dream '65. However, a full effects loop for the 50-watt version would still be nice to see, letting you get even more granular with your setup without having to mess around in software.
On the floor
Realistically, though, neither a separate modeller nor a pedalboard are an essential accessory to the Katana 50. But if you play live, the newly-supported GA-FC EX could well be. When hooked up to the Katana, it effectively brings the top panel's buttons to your feet: you can switch between a total of eight presets (four more than you can without it) or use it in a sort of pseudo-stompbox mode to toggle individual effects.
The foot controller is totally passive, connecting to the amp via any stereo quarter-inch cable, and yet still has bright colour-switching LED lights that actually make it pretty clear what's going on. We never felt ourselves scratching our heads, and the lack of a need for a separate power supply means you can literally just bring the Katana, the GA-FC EX and a couple of cables to the gig. Oh, and like the Katana itself, it's seemingly built to withstand light artillery fire.
It opens up a dizzying array of control options: connect up to three expression pedals, assign them to any parameter you'd like in software, connect and control another Katana, connect another footswitch bank, connect it directly to your brain and turn the reverb on with your thoughts. You can get as complicated as you like with it, really.
But the main appeal, for us? You don't have to shuffle to the back of the stage and press an unsatisfying little button to change sounds. That's never a good look when it's time for your solo. You can, instead, switch from sparkling clean to a reverb-drenched high-gain with a decisive stomp. Like the rockstar you are.
The extensive functionality does go some way to compensate for the lack of an effects loop, then. Given that the price of the amp and the foot controller together is what some people shell out for a single reverb pedal, it's almost a no-brainer.
The controller comes with a few non-gigging applications, too. Having the top-panel's effects broken out into something a little more familiarly pedal-like makes free-form tonal experimentation in any setting – writing, recording or just messing around at home – a lot more seamless.
The rest
The basic functionality is just the tip of the iceberg – we haven't even touched on deep-editing in the Tone Studio app, direct USB recording and the like, and we're still yet to talk about how good the Katana 50 MkII EX actually sounds. Of course, Katanas aren't about pure sound. They're affordable, they work across the entire country-death metal spectrum of gain and you can chuck it in a car boot with room left over for your bassist. That's what a Katana is for. If you're a die-hard tone purist, you probably haven't made it this far into a review of a sub-£500 modelling combo.
That's not to say it sounds bad. It sounds great – not exceptionally so, but we find it difficult to dial in a sound that makes us go "oh god, not that one." Each amp model does exactly what you expect: the cleans are nice and dynamic with plenty of headroom, the high-gains are smooth, if a little sterile. The alternate sounds all offer a noticeable shift in character, so chances are if one amp model doesn't click with you, the secondary voicing might. There are also some really satisfying, spongey sounds to be found by combining the on-board boosts with the crunch channel.
The other effects are all perfectly functional, but nothing to write home about: they're not abrasive and digital-sounding, but they won't convince you to put your pedal collection in the bin. They do cover a huge range of sounds off the bat, and there's even more to be found via the Tone Studio.
In short, we can't tell you what the character of the Katana 50 is – because, by design, it doesn't have one. We're a far cry from the amplifier world the Katana MkI was born into. In 2016, it was shocking enough for it to be a digital modelling amp and not have a distortion sound that evoked someone taking a hedge trimmer to a wasp's nest. So is this latest addition in the range worth buying? If you already have a Katana of any stripe, the addition of a couple of handy utility features it's likely too incremental to warrant an upgrade. But it definitely is good to see an improvement on what has become 'the bar' for affordable gigging combos: it's a jack of all trades for sure, but definitely not a master of none.
Key Features
Boss Katana 50 MkII EX
PRICE £329
DESCRIPTION 50-watt modelling combo amplifier
CONTROLS Amp selector variation switch, gain and volume, three-band EQ, selector switch and level controls for booster, modulation, FX, delay and reverb effects blocks, tap tempo for delay, master volume, 2 channel/preset selector switches and one 'panel' switch for WYSIWYG operation, power level selector switch
FRONT AND REAR PANELS Guitar input, line out, USB, Aux in, GA-FC jack, footswitch/expression jack, headphone/recording output, Stereo Expand output, power amp input, standard IEC power connector.
DIMENSIONS 470x 238x398mm
WEIGHT 11.7 kg / 25 lbs 13 oz
GA-FC EX
PRICE £129
DESCRIPTION Six-button foot controller
FRONT AND REAR PANELS one dedicated footswitch jack, two dedicated expression pedal jacks, multi-mode jack for either another expression pedal, a footswitch or another foot controller bank
DIMENSIONS 392x81x49mm
WEIGHT 1 kg / 2 lbs 4 oz
Like this? Try these
Line 6 Catalyst 60 (£249)
Blackstar Silverline Special (£449)
Fender Mustang GTX50 (£399)
The post Boss Katana 50 MkII EX review: Not moving the bar, but polishing it appeared first on Guitar.com | All Things Guitar.
Source: www.guitar-bass.net