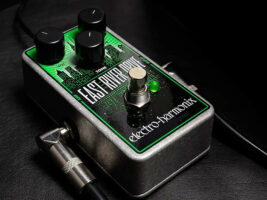 Analog Man reveals that it helped EHX develop this well-known overdrive
Analog Man's Mike Piera has revealed that his company helped Electro-Harmonix with their hit 2014 OD pedal, the East River Drive.
READ MORE: DOD officially returns with refreshed OD 250, and Tom Cram is back in the fold
In an Instagram post shared on 9 February, Piera disclosed Analog Man's role in the creation of the pedal. "It's not well known, but when EHX wanted to make a classic overdrive pedal, they asked Analog Man to help them out, as we have been working on Tube Screamers longer than anyone else," Piera wrote.
"We worked with the EHX management and engineers, and they built this excellent pedal, to our exact specs, with the JRC4558D chip which we have used for so long. A winner at any price, it's a no-brainer at (way!) under $100," he concluded of the pedal.
View this post on Instagram
A post shared by AnalogMike Piera (@analogmike_piera)
EHX released the TS-808-inspired East River Drive in 2014, with the pedal becoming a staple on pedalboards worldwide due to the affordable pricing and compact size due to EHX's compact Nano-sized enclosure. The pedal is still available at $81.60 at authorised EHX dealers.
In other EHX news, EHX recently reissued the Slap Back Echo pedal with modern upgrades and a smaller pico-sized chassis. The "1978 rarity" was brought back after Josh Scott pleaded with the brand on The JHS Show to "just re-issue this, or let me do it" back in 2021, with the scaled-down reissue boasting an analogue delay with a single repeat, with the capability to produce subtle doubling, up to wide and glimmering echo.
The post Analog Man reveals that it helped EHX develop this well-known overdrive appeared first on Guitar.com | All Things Guitar.
Source: www.guitar-bass.net