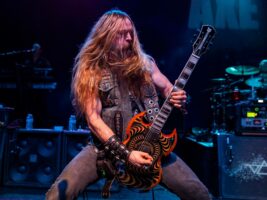 Zakk Wylde selling road-played guitars in Pantera packages
Zakk Wylde is offering road-used guitars as part of the VIP package benefits for Pantera's celebration tour.
READ MORE: Zakk Wylde addresses Pantera gig cancellations: "There's nothing I can do about that"
As part of VIP package upgrades for Pantera's US tour sold via Soundrink, Wylde is offering packages that include a meet and greet and photos with the guitarist, as well as the promise of a signed, road-used guitar. Those purchasing the $3,250 package will be entitled to a Wylde Audio Barbarian guitar in Orange Buzzsaw, Genesis Bullseye or Purple Blizzard finishes.
Only three VIP packages are available per show. More information is available at Soundrink.
Wylde is currently filling in for the late Dimebag Darrell on the band's tours, with the US tour set to kick off this July. Dimebag Darrell's guitar tech Grady Champion has shared that Wylde will be using some of the late metal legend's gear during the trek, which will see Pantera performing in New York, Texas, California, Michigan and more.
The band were recently thrown off major German music festivals Rock Am Ring and Rock Im Park following an outcry over singer Phil Anselmo's alleged racist behaviour, which subsequently led to Vienna's Gasometer festival also dropping the band. Wylde has commended on the cancellations, sagely musing, "There's nothing I can do about that, you know what I mean? In terms of my role, it's always a case of being ready for whatever – as in seeing if the fellas want to add any more songs or anything like that while we're out rolling together on this tour."
Pantera revealed the first four dates of the celebration tour in August last year, with the band performing at Heaven & Hell Fest in Mexico on December 2, Knotfest Colombia on 9 December, Knotfest Chile on 11 December and Knotfest Brasil on 18 December. The revamped lineup features Phil Anselmo, Rex Brown, Zakk Wylde and Charlie Benante.
The post Zakk Wylde selling road-played guitars in Pantera packages appeared first on Guitar.com | All Things Guitar.
Source: www.guitar-bass.net