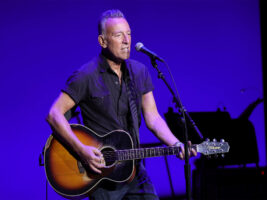 Bruce Springsteen fanzine shutters in protest of concert tickets "that many of our readers cannot afford"
Bruce Springsteen fanzine Backstreets has announced they will be ending in protest against the dynamic pricing model applied to tickets for Springsteen's 2023 tour.
READ MORE: Russia reportedly asks Roger Waters to speak about Ukraine arms at UN: "Perhaps he will sing to us, too"
Publisher and editor-in-chief Christopher Phillip explained in an editorial that the fanzine's staff and readers had been demoralised over the decision to retain the model, which greeted fans with ticket prices ranging from $1,000 to $5,000 when attempting to attend  one of Springsteen's  shows via Ticketmaster.
"There's no denying that the new ticket price range has in and of itself been a determining factor in our outlook as the 2023 tour approached – certainly in terms of the experience that hardcore fans have been accustomed to for, as Springsteen noted, 49 years," Phillip wrote.
He continued, "Six months after the on-sales, we still faced this three-part predicament: These are concerts that we can hardly afford; that many of our readers cannot afford; and that a good portion of our readership has lost interest in as a result."
Tampa mid-floor for $4,400 each, anyone? #catchandrelease
"Ticketmaster's Official Platinum seat program enables market-based pricing (adjusting prices according to supply and demand) for live event tickets, similar to how airline tickets and hotel rooms are sold." pic.twitter.com/8qyanN0OQA
— Backstreets Magazine (@backstreetsmag) July 20, 2022
Phillip continued: "Whatever the eventual asking price at showtime and whether an individual buyer finds it fair, we simply realised that we would not be able to cover this tour with the drive and sense of purpose with which we've operated continuously since 1980. That determination came with a quickening sense that we'd reached the end of an era."
Backstreets was first founded in 1980 by Springsteen fan and author Charles R. Cross, with Phillip taking over the fanzine in 1993. The fanzine is set to put out a digital final issue in its 92nd edition, with Phillip promising it will feature unpublished Backstreets content, interviews, and photography. Cross is also set to return with a final column.
The Backstreets website and record shop will remain online.
Springsteen was 2021's highest-paid musician, earning almost $600 million through the sale of his catalogue to Sony, along with tours and his podcast with former President Barack Obama. The catalogue deal alone was estimated to be worth around $550 million.
The post Bruce Springsteen fanzine shutters in protest of concert tickets "that many of our readers cannot afford" appeared first on Guitar.com | All Things Guitar.
Source: www.guitar-bass.net