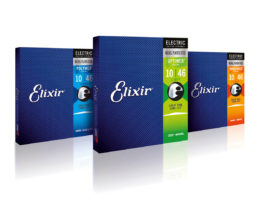 Can Elixir's Optiweb strings stand the test of a touring musician?
Guitarist Mary Spender puts Elixir's Optiweb coated strings through their paces out on the road and you could win 6 sets to test them yourself!
To coincide with the announcement of Mary Spender's first headline UK tour, we've teamed up with Elixir Strings for a long term test of their new Optiweb coated guitar strings.
Following Mary's rapid growth among the online guitar community – where she has interviewed revered players such as KT Tunstall and Maroon 5's James Valentine – she has revealed her first full length UK tour where she'll be piloting Elixir's Optiweb strings.
Elixir claim their Optiweb coating provides a lightweight coating that enhances the life of your tone whilst not compromising on playability, feel and sustain. But will they stand the test of a touring musician?
Check back here for videos, comments and more from Mary throughout the tour.
You can find Mary's full tour dates here.
In the meantime, enter our competition to win 6 sets of Elixir's Optiweb coated strings by simply answering the question below:
Subscribe to our mailing list
* indicates required
Email Address *
First Name *
Last Name *
Opt in for more info from The Guitar Magazine
Yes
Answer
Nitroweb
Optiweb
Nanoweb
Polyweb
Terms & Conditions
The closing date is 12.00am GMT 12 April 2018. The editor's decision is final. By entering The Guitar Magazine competitions, you are agreeing to receive details of future promotions from Anthem Publishing Limited and related third parties. If you do not want to receive this information, you can opt out. This giveaway is open to over 18s only. For full terms and conditions, please go to anthem-publishing.com/competition-tcsThe post Can Elixir's Optiweb strings stand the test of a touring musician? appeared first on The Guitar Magazine.
Source: www.guitar-bass.net