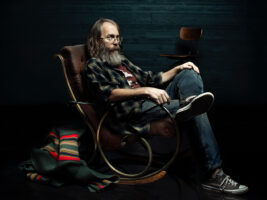 Charlie Parr on his lost National Duolian and the benefits of saddles made from deer shed
The moment it all started
"Listening to records from my dad's collection of solo folk-blues musicians when I was seven or eight started the guitar obsession that I still have. I was, and am, very inspired by solo guitarists and have always wanted to learn how to navigate a song entirely on my own. Probably typical for an introvert, I don't know."
READ MORE: Introducing… Rosie Tucker, the underground darling crafting songs about sweetness, grit and queer self-discovery
I couldn't live without my…
"I would have a hard time getting by without a resonator guitar. I've had one for almost all of my playing life and I've come to rely on the particular set of sounds that they're capable of."
The one that got away
"I had a 1933 National Duolian C series (12 frets/rolled f-holes) that I traded to Don Young (then owner of National Resophonic) for a custom 12-string. I loved the 12-string and played it a lot, but I still miss that Duolian. It had Honeyboy Edwards' signature on it. I couldn't tour with it, so it felt like a solid decision at the time… but it wasn't."
My signature model
"The Mule tricone I currently play is as close as I would get to a signature guitar, it has a custom made mini-humbucker from Ted Vig, and a nice chunky neck profile. Plus, a saddle made from deer shed (antler that falls off naturally) that gives a nice sharp tone without being too trebly. Either that or some kind of small-bodied 12-string like Todd Cambio builds."
The first thing I play when I pick up a guitar
"It depends on how it's tuned; lately I love playing Dupree's Blues in standard and that comes out first. If the guitar is in D, it's usually Vestapol and if it's G then I play St. Louis Blues."
The best advice I've ever been given
"Don't rest your fingers on the guitar while you play. Advice that I find very difficult to follow but when I do it, I find that my timing is much better."
My Spinal Tap moment
"I opened a show in Galway for Mundy and before I walked onstage I had taken my jacket off, but it was hooked into the back of my pants, and it was traveling along with me all the way to the mic but I didn't realise it. I couldn't figure why everyone was laughing at me."
My guilty pleasure
"I never feel guilty about musical pleasure. Lately I've had the Minutemen's Double Nickels on the Dime on constant rotation, and I never turn Boston off when they come on the radio."
The first thing on my rider
"Coffee. All day."
I wish I was there
"Does Newport Folk Festival 1964 count as one gig? To see Skip James, Robert Pete Williams, and Mississippi John Hurt all the same day!"
If I could just play one thing
"Jazz. But I'm learning and practising. I think it's a matter of putting in the hours, there's not much you can't at least get a bite out of if you put the time in."
Charlie Parr's new album, Last Of The Better Days Ahead, is out now via Smithsonian Folkways.
The post Charlie Parr on his lost National Duolian and the benefits of saddles made from deer shed appeared first on Guitar.com | All Things Guitar.
Source: www.guitar-bass.net