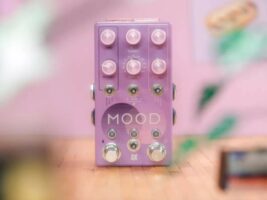 Chase Bliss announces the MOOD MkII, puts everyone in a great mood
Chase Bliss is spreading the joy with the new MOOD MKII, building on the legacy of the original MOOD multi-effects pedal.
READ MORE: Epiphone unveil the Chris Stapleton Frontier acoustic guitar, with double-engraved pickguards and pink-satin-lined hard case
The original MOOD was is a favourite for many guitarists, offering two channels: one being a granular looper that samples and loops incoming audio, while the other is a spatial effects processor with reverb delay.
The new MKII offers the same features, but it takes it significantly further, including a variety of new features. This includes stereo processing, overdubbing and freeze mode. As well as this, the loop length has be doubled.
"This thing has been a joy to make, but we were also careful," says Chase Bliss in a statement. "MOOD was this surprise success and its greatest strength is that it's just fun. It's instant gratification and I didn't want to overstuff it and lose that."
"On the surface it will feel instantly familiar, but you now have the ability to go so much further. Just about everything in the pedal is doubled, roughly speaking. The loops can be twice as long, it's full stereo, and both channels now have a powerful hold function. You can overdub, you can sync, you can freeze, you can even use the looper like a live effect."
MIDI integration has also been significantly improved, meaning that parameters can now be controlled externally via MIDI, and both channels can be synced to a MIDI clock. Taking this even further, MOOD's transposition function can now be controlled with a MIDI keyboard, which means the pedal can function as a granular synthesizer as well.
Chase Bliss has released a teaser video about the new pedal, which can be found below:
The Chase Bliss MOOD MKII is available for preorder now, and will retail at $399. It is estimated that the shipping will start in late April.
For more information, you can head to ChaseBliss.com
The post Chase Bliss announces the MOOD MkII, puts everyone in a great mood appeared first on Guitar.com | All Things Guitar.
Source: www.guitar-bass.net