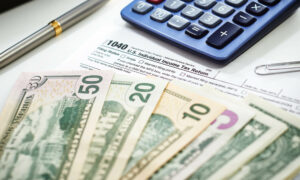 The IRS wants you to pay tax on gear sales over $600 – Reverb is trying to stop them
The buying and selling of gear has been an essential part of being a musician for decades now. While looking for that elusive 'sound in your head' it's rare to find a guitar player or other musician that hasn't bought something and ultimately sold it on when we realise that it's not for us, or not what we were looking for.
READ MORE: One of the rarest and most extreme guitar designs of the 80s is now for sale on Reverb
But how many of us expect to pay tax on that third- or fourth-hand Strat we sold to make room for our newest purchase? Well, if the IRS – the agency responsible for collecting and administering taxes in the USA – gets its way, then buying and selling gear online through places such as Reverb and Ebay might be about to get a lot more expensive.
Back in January 2022, the US government changed the threshold of the Form 1099-K, which requires that online marketplaces to report any sellers who sold items totalling more than $600 in a calendar year to the IRS – the previous threshold was $20,000 in sales and 200 or more transactions in a calendar year. Failure to submit a 1099-K form with your regular taxes could lead to an audit from the IRS, even if the goods sold would not themselves be subject to taxation.
It's a situation that's creating huge concern and stress for musicians who find online gear marketplaces like Reverb a fantastic resource to buy and sell gear as they move through musical projects and phases in their playing lives – with no sense that it would ever be a 'business'.
"This is just a hobby for me," says Reverb seller Michael M, who has spent time touring with a band but serves as a full-time engineer. "We always take inspiration from our gear, so it's hampering us creatively. The $600 threshold doesn't do anything but inhibit the inspiration. Even just buying pedals, that's only two!"
Image: Ilnur Khisamutdinov / Alamy
"I play in a band and gig often, and using Reverb to buy and sell guitars helps me stay creative and keep my playing fresh," John B tells us. "I can only afford to have a few guitars at a time, so if I'm not playing one, I sell it on Reverb so that I can try something new. I'm not selling guitars to make money. This new reporting requirement would create a huge hassle for me, especially when it comes to finding original receipts and proving that my gear was sold at a loss."
The US government claimed that it was introducing this new requirement in order to help close the country's massive $428 billion annual tax gap, and was designed to close loopholes used by wealthy tax cheats. However it has met with significant criticism and opposition from politicians and business leaders of all stripes due to the effect that these reporting requirements will have on small businesses and casual sellers.
The Coalition For 1099-K fairness is the most visible expression of this – a coalition of online retailers including Reverb, Etsy, Airbnb, Ebay, Paypal and Stubhub that has successfully lobbied for the IRS to delay this new threshold until 2024, but now they're lobbying Congress to permanently change the rules and spare causal sellers the hassle and stress of adding even more unfamiliar forms to their annual tax return.
Screenshot via Reverb
"As a guitar player, I know the importance of seeking out different sounds, and selling one guitar to buy another has always been a great way for me to explore new instruments," Reverb's CEO David Mandelbrot tells us. "We want to ensure that this freedom of creativity and exploration isn't unintentionally hampered, which is why we're proud of the work we've done to date as part of The Coalition for 1099-K Fairness. As a result of that advocacy, the IRS announced a one-year delay for implementation of the new $600 reporting threshold, saving many from burdensome forms for the 2022 tax year. We're hopeful that this delay is the first step toward a permanent change to the reporting threshold and we'll continue to advocate on behalf of the Reverb community."
Without these permanent changes, soon your next gear sale might end up being a much more complex and potentially expensive experience than it is at the moment.
The post The IRS wants you to pay tax on gear sales over $600 – Reverb is trying to stop them appeared first on Guitar.com | All Things Guitar.
Source: www.guitar-bass.net