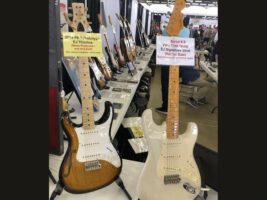 Check out this PRS thinline prototype which was made for Eric Johnson, but never produced
Did you know PRS once made a thinline Strat-style prototype for Eric Johnson, but it never made it to production? Now you do. Displayed at the Dallas International Guitar Festival earlier this month, the "not for sale" model showed what almost could have been.
READ MORE: The Big Review: PRS SE Hollowbody Piezo – setting a new standard
Snapped and shared to guitar forum The Fretboard by user Strat54, the model is labelled as being made in 2014, four years before Johnson's Fender semi-hollow signature guitar arrived.
The sunburst PRS prototype thinline model looks to feature a vintage-style tremolo bridge, a trio of single-coil pickups, a three-knob control circuit, and a typical S-style pickguard. Of course, it also has a classic f-hole too.
Johnson's prototype was also displayed next to another never-released signature model – the "very first" White EJ Signature Stratocaster from Fender, also pictured above.
Although it appears many users on The Fretboard certainly won't lose any sleep that it was never put into production, with the original poster captioning the picture as "so hard to unsee this one", PRS do appear to be working on another S-style model, but this one has a much finer chance of seeing the light of day.
In early May, John Mayer was spotted playing a new signature model, possibly hinting at the emergence of the PRS Silver Sky 2.0. During Dead & Company's recent farewell tour show, Mayer brought out an axe that had a sticker reading "Prototype. Silver Sky. Advanced Research Division" behind the bridge.
It had a Moc Sand finish, and looked to have an output jack fitted with a switch. The headstock had been fitted with a brass nut, as well as a new retainer bar, and the guitar also hosted a hardtail, a first for the Silver Sky.
Eric Johnson is touring from August through to October. Get tickets at EricJohnson.com.
The post Check out this PRS thinline prototype which was made for Eric Johnson, but never produced appeared first on Guitar.com | All Things Guitar.
Source: www.guitar-bass.net