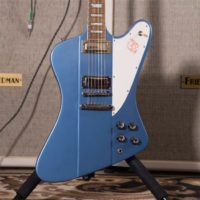 Chris Shiflett launches official Reverb shop
The Foo Fighters guitarist is selling more than 20 guitars that have been used throughout his career.
Reverb.com, the leading online marketplace dedicated to buying and selling music gear, has partnered with Foo Fighters Lead Guitarist Chris Shiflett to launch The Official Chris Shiflett Reverb Shop. The shop will launch on Thursday, July 19, and will feature 20 guitars from Shiflett's personal collection.
"I have an excess of guitars that I've gotten over the years — I have more than I could even really play and more than I do play. It would be fun to see these things find a home elsewhere, where somebody's going to actually play them and put scratches on them," said Shiflett. "I'm going to take these twenty guitars and turn them into two guitars. That's kind of my plan."
Among the items that will be for sale in The Official Chris Shiflett Reverb Shop are:
A 2002 Gibson Firebird V Reissue in pelham blue that Shiflett purchased around the time the Foo Fighters recorded One By One, the first album on which Shiflett played. "I grew up just fantasizing about having a Firebird, so I bought this one," Shiflett said of the guitar, which was a go-to for tours during that time. The guitar, which Shiflett modified significantly over the years, can be seen in its original white color in the official video for "All My Life."
The very first Fender Chris Shiflett Signature Telecaster Deluxe Prototype sent to Shiflett in the very early stages of the design process. While slightly different from the eventual guitar that came to market, this guitar was similarly modeled after Shiflett's favorite '72 Telecaster Deluxe.
A 1990s Gibson 61 SG Les Paul Custom Reissue that Shiflett notes is a beautiful guitar that he just doesn't find himself playing much. "I always wanted an Alice Cooper Band SG Custom," he said while discussing the guitar.
A Gretsch Brian Setzer Signature Black Phoenix that Shiflett purchased in the early 2000s because of his admiration for Brian Setzer and the Stray Cats. He "wanted a Gretsch that would be rocking enough for Foo Fighters stuff" and this Brian Setzer-style Gretsch did the trick on tour.
And that's just a small selection. Watch the video above for more from Chris on these guitars and the sale, and be sure to sign up in the email box above to be the first to get word when the shop launches this coming Thursday.The post Chris Shiflett launches official Reverb shop appeared first on The Guitar Magazine.
Source: www.guitar-bass.net