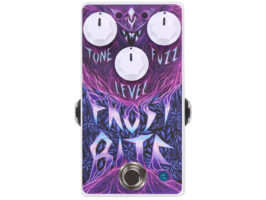 Coffin, Haunted Labs unveil the Frost Bite Fuzz
Serving up a vortex of strange, otherworldly fuzz tones.
Coffin has teamed up with Christopher Cozort of Haunted Labs for its latest offering: the Frost Bite Fuzz. The first effects unit out of Coffin's basement in over a decade, this ghoulish stompbox delivers a range of otherworldly fuzz sounds.
The pedal is built around a custom silicon fuzz circuit, and features versatile controls that can be tweaked to summon classic fuzz tones and some shocking, unusual distortion. The Frost Bite Fuzz sports a three-knob layout: "Level", "Tone" and "Fuzz". The last of the three can be turned down for a cutting, clean boost, or cranked up for a blitz of ferocious fuzz.
Check out the pedal in action here:
Retails at $199.99. More information at coffingear.com.The post Coffin, Haunted Labs unveil the Frost Bite Fuzz appeared first on The Guitar Magazine.
Source: www.guitar-bass.net