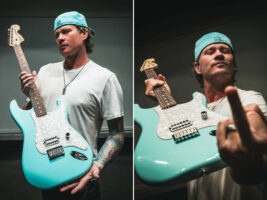 Could Tom DeLonge's Signature Strat be making a return to the Fender lineup? 
Nearly two decades after his Signature Fender Stratocaster was produced, it appears Tom DeLonge could be teasing that it's about to be revived by the brand.
READ MORE: Guitarist builds the "John Delonge" – a combination of John Mayer and Tom DeLonge's guitars
Last year, the Blink-182 vocalist and guitarist made a return to Fender after two decades with Gibson, unveiling a new single pickup Starcaster design, which still could be in the pipeline.
But now, DeLonge has posted some photos of him posing alongside his Signature Strat model to Instagram and Threads, causing speculation that the model is about to be revived. Captioned with a smiling emoji in sunglasses, the ominous post has got fans rather excited.
Commenters called for the pop-punk rocker to "bring that bad boy back, Thomas", and though no revival has yet been confirmed by Fender itself, the photos do appear to be a good sign given that the model has been out of production for 20 years.
Check it out for yourself:
View this post on Instagram
A post shared by Official Tom DeLonge (@tomdelonge)
 
The model photographed looks rather new, and the whole shoot is looking pretty professional, hence why fans are hoping a launch is on the horizon. The Daphne Blue colour even matches perfectly to his hat, which would also be a strange coincidence.
For those keeping their fingers crossed for a reissue, here's what you could potentially expect – spec wise, DeLonge's model hosts a single Seymour Duncan Invader humbucker, a hardtail bridge, anoversized '70s Strat headstock, and singular volume knob.
Price wise, the guitar was launched at the $500 mark in 1999, but given that current used models now sell for around $2,000 on sites such as Reverb.com, and given how prices have gone up in general, it would be highly likely there would be a significant price hike if this was to be launched.
In the meantime, check out Fender to view its other signature models.
The post Could Tom DeLonge's Signature Strat be making a return to the Fender lineup?  appeared first on Guitar.com | All Things Guitar.
Source: www.guitar-bass.net