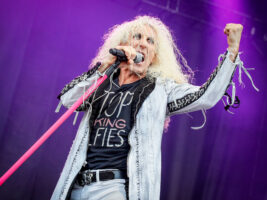 Dee Snider: "I hate shit-talkers, and I pride myself on not being one"
Dee Snider has once again voiced his distaste for bands who reunite after their farewell tours, calling the practice complete "bullshit".
READ MORE: The AC/DC song that Wolfgang Van Halen bonded with his dad over: "He was laughing so hard"
Snider, whose band called it quits in 2016, told Vintage Rock Pod that the group is done for good aside from one-off performances, like the at the Heavy Metal Hall of Fame induction ceremony.
"I hate shit-talkers, and I pride myself on not being one," he says. "Just like with retirement, we are retiring. And people keep saying, 'So when's the reunion? That was 2016. There's no reunion?' I won't answer your question."
He adds, "No, we're not getting full set. I've always said it. The Heavy Metal Hall of Fame in California inducted us, we gathered, we did three songs together. We had the time of our lives, and it was a moment. People could watch it online, it was great. People see it and go, 'Why don't you guys come back? You were amazing!'
"No, it's done. If some TV show — The Tube, somebody has a 'Let's remember The Tube 15 years later and bring some of the greatest shows in the history of The Tube' and they ask Twisted Sister… Like, you know what? We will go through a song! … But getting up on that stage and doing a full set, having that responsibility? It ain't happening because I'm not a shit-talker like most of the other people."
Snider also notes that his comments have upset fans, who claim that he's mocking bands like Scorpions, KISS and Mötley Crue.
"Yeah, okay, but I didn't tell you to retire! As a matter of fact, you don't have to. Your fans don't want you to. Stay forever!" the rocker says. "Rush stayed until Neil passed. Metallica says they don't think they're ever going to retire officially, and maybe they'll just stop playing whenever they… I don't want to put words in their mouth, but that's fun."
"Just don't sell me a 'No More Tour' shirt. Just don't sell me a premium ticket. Don't sell me a tour book. Don't sell me that stuff and then change your mind. Three-year farewell tour in and, 'We changed our mind because we haven't played everywhere!'"
Snider adds that Blue Öyster Cult — another band who said they'll never retire — scares him, saying: "Blue Öyster Cult have tour jackets 'On Tour Forever'. It terrifies me, but that's their statement, 'We're never retiring. We'll always be playing.' God bless you, and I'll never shame them for going out there and keep doing it. They're living their dream, and there are people coming to see them — God bless them."
"But they didn't go out there and say, 'We're signing in blood! This is it! Farewell!' Three years later, big checks waved in their face, 'We're back! We're back!' And now members are aging out and replacing members. That's bullshit. Bullshit."
The post Dee Snider: "I hate shit-talkers, and I pride myself on not being one" appeared first on Guitar.com | All Things Guitar.
Source: www.guitar-bass.net