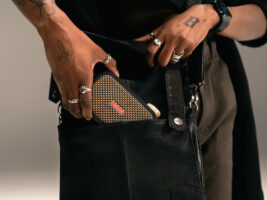 I took a portable smart guitar amp everywhere I went for a week: this is what happened
Produced in association with Positive Grid
The whole Spark GO thing still defies belief really. Now, I should preface this by saying, I'm not the sort of person to scoff at the march of technology – my main amp these days is a Tone Master, I've written in the past about how the Spark Mini revolutionised my playing life at a time when I had very limited opportunities to play at home, I am all in on the concept of a smart amp as Positive Grid envisions it. 
READ MORE: Positive Grid Spark GO review: the portable amp finally goes big
And yet, when you're presented with the Spark GO for the first time, you still roll your eyes a bit – come on, this thing is smaller than a can of Coke, it simply cannot sound as good as they say it does. I've heard how terrible those actual Coke can amps sound, and physics can only be ignored for so long, right? 
Wrong, apparently! Because yep, you plug the GO into your favourite guitar and turn it up to a reasonable room-filling volume and it still sounds impressively good, especially when you lay it on its back and allow that clever passive radiator to funnel the bass response through a nice hard surface. But you knew all this from my review that we published a few months back – now I wanted to test the GO part a bit more thoroughly. 
To do that, the task was pretty simple – wherever I went for a full week, the Spark GO would be by my side (or at least in a rucksack or gigbag – I'm committed to this experiment but not so committed I'm prepared to dangle it off my belt-loop on public transport, sorry Positive Grid). I had quite a busy week planned as it happened, so it would be a great opportunity to give the Spark GO a thorough run-through of its various features. 
Besides The Seaside
The first test would be a weekend away with the family in Devon, which is at the top end of England's bottom right-hand corner, if you're not familiar. Now, as a rule I don't often take a guitar with me on holiday, but my son is obsessed with my guitars at the moment, to the point where an old ukulele is his favourite toy. He absolutely loves strumming dad's guitars while I make the chord shapes, and if that happens to mean I get to spend his naptimes and my evenings noodling away watching the sun-set over the English channel as a result, well, it's a sacrifice I'm prepared to make. 
In truth, the Spark got quite a minimal use as a "regular" guitar amp over these two days, relegated to an hour or so playing with headphones on the Saturday evening before we headed home, but it gave me ample opportunity to test out the Spark GO as a headphone amp, and as with its bigger brothers, it performs really well – giving a rich and layered tone through cans. 
Unexpectedly, the Spark GO did get a lot of work this weekend as an extremely rugged and portable bluetooth speaker – whether that was in our rented holiday home, at the beach or by pool, I'm not sure anyone has ever played the Bluey album so much through their Spark as I did this weekend, but it became a great way to keep the family entertained on the go – and it sounds bloody good with it. 
Back In The Saddle
Image: Positive Grid
Returning home refreshed and it was straight back into work, and for me this week that involved a fair bit of recording for Guitar.com's new gear demo series, 60 Seconds. The whole point of 60 Seconds is that we record them at home without a huge amount of flashy production and while usually I've used my Tone Master to record the sounds, my experience filming a 60 Seconds with the Spark GO left me curious as to whether I could streamline and simplify the process. 
I sit down with the pedal I'm testing on one side of my desk, and the Spark GO on the other, with the GO plugged directly into my MacBook using the USB-C port… and things couldn't be simpler. GarageBand recognises the GO immediately, and within minutes I'm recording the audio for the 60 Seconds using one of the Spark's impressive built-in amp models as the basis for my tone. It shaves a fair chunk of set-up time being able to plug and play so effortlessly, and with the headphone out I can even monitor in real time and make sure everything sounds good. It has me wondering what's the most obscure and inconvenient place I could record in… but that's probably a job for another feature.
I also found the ever-impressive learning features of the Spark companion app super useful when trying to come up with riffs to record for the demo – using the GO's Smart Jam mode as a base to sketch out ideas is super useful and these AI-powered features remain one of the best reasons to get yourself a Spark, even if you're not planning on taking it everywhere you go like I did.
 
Ready For The Road
There are so many potential uses for the Spark GO that you can easily envision that frankly I am just not able to put into practice during my week with it – I can imagine it would be a very handy backup amp for busking and coffee-shop gigs if you were that way inclined, for example. I also imagine it would be an absolutely incredible practise/warm-up tool to have in the dressing room before gigs, or indeed as a songwriting companion in a tour bus or van. Given that the only thing I'm likely to tour right now are the various soft play centres of the greater Bristol area, I'll leave that to someone more qualified to ascertain. 
Before we go though, I did want to share one more nice little vignette from my week with the Spark GO. Towards the end of the week, a friend of mine asked me to go with him to check out a guitar he'd agreed to buy off a guy on Facebook. 
We've all been there – meeting a total stranger in a supermarket parking lot to hand over a roll of notes in exchange for a hard case or gigbag… it's a bit weird, innit? And as it's my job to know about guitars, he's not the first mate who's asked me to accompany them on one of these exchanges in the hope I'll spot if they're getting fleeced. 
The problem with these sort of deals is, asides from a visual inspection underneath the neon of a parking lot lamp-post, you never get to plug in and test it… until now. Initial inspection completed and, safe in the knowledge that we were in a suitably remote part of the lot, I pulled out the Spark GO and a short lead and asked if we could give it a play. 
Reader, this was weird… and yet it was really helpful! My friend got a chance to hear the guitar before he bought it and was much happier parting with the cash as a result, and we could keep the volume low enough as to not attract any undue attention. 
I'm not saying I'm going to carry on taking my Spark GO with me everywhere I go, but the past week has really demonstrated what a useful and versatile beast this little thing is – one thing's for sure, I won't be taking mine out of my gigbag any time soon. 
Head to Positive Grid's website to find out more about the Spark GO.
The post I took a portable smart guitar amp everywhere I went for a week: this is what happened appeared first on Guitar.com | All Things Guitar.
Source: www.guitar-bass.net