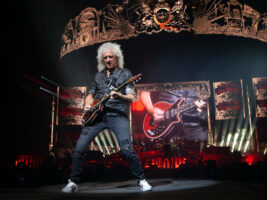 Paul Crook says he played Brian May's original Red Special "several times": "It feels like a baseball bat"
Meat Loaf guitarist Paul Crook has looked back on the multiple occasions he had the pleasure of playing Brian May's iconic Red Special guitar.
READ MORE: Lamb of God's Mark Morton calls this intro "one of the best recordings of an electric guitar ever made"
Recounting the experience in Greg Prato's book Long Live Queen: Rock Royalty Discuss Freddie, Brian, John & Roger, Crook — who handled guitar duties for the 'We Will Rock You' musical — says "I've had the pleasure of playing Brian's guitar several times, that it doesn't even phase me anymore."
"I was at his house in Surrey one time. I was in the UK with Meat Loaf, and I drove out. And the guitar was laying on the couch in his living area – like a library. I think he went into the kitchen to get some tea, and he said have a seat. And his guitar…I just picked it up and moved it!"
"I mean, I'm not saying it's special, but it's the man that's special. I guess I'm just numb to the instrument now. It's so funny to feel that way about it. The guitar is awesome, but it's not Brian. It's him. It's his hands."
Crook explains that the Red Special "sounds incredible, even acoustically," even though its "really fat" neck made playing it a real challenge.
"It feels like a baseball bat. It is also a 'fretless wonder.' My stupid hands can't play it. I can't bend on it," he says. "Watching Brian bend on it is mind-blowing. I asked him how he approaches his vibrato (in his head) because it looks incredibly strong up close. Frightening. Intimidating. He actually presses into the fretboard. Most players push up. He imagines a tiny spring as he presses."
Crook also shares the reason May chose such a big neck profile for the guitar, saying: "He mentioned that he got tired of sanding it down! [Laughs] That being said, it was one of the best decisions he could've made. He's NEVER had to adjust the truss rod. That is insane when you think about it. The guitar has been around the world countless times, through all kinds of climate changes. Not one single adjustment."
"Also, all that sustain is coming from it. The guitar rings."
He continues: "The tremolo system is badass. I believe he built it using parts from a bicycle seat and a sewing machine. It feels great! What I find incredible is that even at such a young age, he incorporated a straight-pull system. Meaning the strings run in a straight line from the bridge to the tuning pegs. Brilliant. The last time I played it, it was at a Queen soundcheck. It was really fun playing through the 'AC30 wall' with the guitar. It was pretty fuckin' exciting."
The post Paul Crook says he played Brian May's original Red Special "several times": "It feels like a baseball bat" appeared first on Guitar.com | All Things Guitar.
Source: www.guitar-bass.net