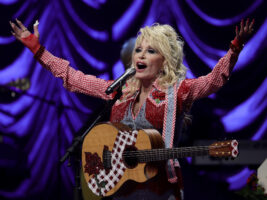 Dolly Parton releases first single from Rockstar album, World on Fire
Country legend Dolly Parton has just released her first single from her upcoming rock album Rockstar, a fiery anthem titled World on Fire.
READ MORE: A Sound City amp claimed to be played by Hendrix goes on sale for $450,000
The single premiered on 11 May at the 58th Academy of Country Music Awards, which Parton co-hosted with Garth Brooks.
World on Fire is a catchy and powerful tune that features Parton's signature vocals and a rocking guitar riff, with lyrics that see Parton tackling heavy topics like the loss of faith, truth and decency. "Don't get me started on politics / Now, how are we to live in a world like this? / Greedy politicians, present and past / They wouldn't know the truth if it bit 'em in the ass," she sings.
Parton also delivered a performance of the song at the award ceremony, accompanied by a choir of backup singers and dancers, receiving a standing ovation from the audience and rave reviews from fans and critics alike.
World on Fire is the first taste of Parton's highly anticipated Rockstar album, which is set to be released on 17 November via Butterfly Records. The album will feature 30 songs, including nine originals and 21 covers of iconic rock classics. The album will feature a star-studded lineup of guest artists, such as Paul McCartney, Ringo Starr, Steven Tyler, John Fogerty, Debbie Harry, Lizzo and many more.
The post Dolly Parton releases first single from Rockstar album, World on Fire appeared first on Guitar.com | All Things Guitar.
Source: www.guitar-bass.net