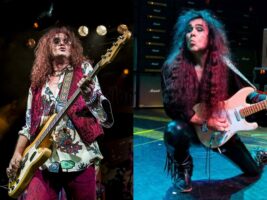 Yngwie Malmsteen announces US summer tour alongside Glenn Hughes
Yngwie Malmsteen and Glenn Hughes will be embarking on a tour of the US this summer.
READ MORE: Duff McKagan's new song highlights Mental Health Awareness Month
Malmsteen will perform his "greatest hits" from his four-decade career. Meanwhile, Hughes, the former bassist and vocalist of Deep Purple, is set to play a set of classic songs from the band's catalogue in celebration of the 50th anniversary of the Burn album.
The tour will kick off on 16 August in Vineland, NJ (a concert that will only feature Hughes) and will visit 19 cities across the country, including New York, Los Angeles, Houston, San Diego and more. The tour will wrap up on 23 September in Clearwater, Florida. Tickets are on sale now at Ticketmaster.com and other outlets.
View this post on Instagram
A post shared by Official Yngwie Malmsteen (@yngwiemalmsteen_official)
More dates are set to be added to the tour soon.
Malmsteen gave fans a small tour of the pedalboard he's been taking on tour in a YouTube video last year, showcasing an array of stomp boxes, most routing to a Boss ES-8 Effects Switching System decked out in Ferrari stickers. Other gear highlights the shred legend shared included Dunlop Cry Baby wah pedal, a MXR Dyna-Comp and his signature Fender Yngwie Malmsteen Overdrive Pedal.
The post Yngwie Malmsteen announces US summer tour alongside Glenn Hughes appeared first on Guitar.com | All Things Guitar.
Source: www.guitar-bass.net