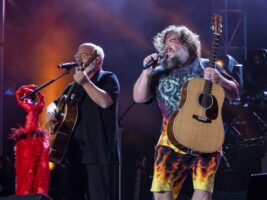 Tenacious D release first single since 2018, Video Games
Tenacious D have released their first new original song in five years.
READ MORE: We got AI to design guitars inspired by famous film directors – the results are amazing
The one-minute song, titled Video Games, is a country-leaning ode to gaming, in which Black sings about how he doesn't play video games anymore… except for a few exceptions. The song features references to popular games such as God of War, Red Dead Redemption 2, and Fallout 4, as well as some humorous lines about how playing video games is an "adult thing" and "like fuckin' Shakespeare".
The song also ends with Black declaring that "this is the one", implying that this might be the greatest song in the world that they sang about in their classic hit Tribute.
The song is accompanied by an animated music video, created by Oneyplays and directed by Adam Paloian and Chris "Oney" O'Neill, that shows Tenacious D in various video game scenarios, such as riding horses, fighting zombies, and flying spaceships. The video also features some cameo appearances by other famous video game characters, such as Mario, Sonic, and Link.
Tenacious D are no strangers to video games, as Jack Black has recently starred as Bowser in the Super Mario Bros Movie5, and also recorded a song for the film titled Peaches, which became an instant hit.
The post Tenacious D release first single since 2018, Video Games appeared first on Guitar.com | All Things Guitar.
Source: www.guitar-bass.net