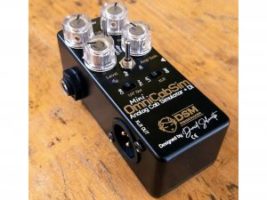 DSM Noisemaker unveils the OmniCabSim Mini
This petite pedal houses an impressive suite of cabinet sounds.
DSM Noisemaker has added to its line of effects a new pedal, the OmniCabSim Mini. It's a compact version of the brand's well-established cabinet simulator, the OmniCabSim Deluxe.
The Mini sports a range of cab presets, and can emulate the overdrive characteristics of tube power amps. It's designed for practicality, with a simple layout that allows users to access a wide range of cabinet tones on the fly.
In terms of controls, the Mini sports a "Cab Size" switch that can toggle between three virtual cabinet options: "Combo" and "Stack" for guitar use, and "Fridge" for bass instruments. The cab settings themselves are sculpted by three knobs: "Level", "Resonance" and "Texture". The latter governs top-end response and can be tweaked to produce tones ranging from dark terrains to extended-range sparkle.
The stompbox also sports an "Amp Gain" knob that shapes the power amp-based overdrive tone. "Crank it up and you get the smooth clipping, compression and extra midrange bite of a loud amp taken to its limits", says DSM founder Daniel Schwartz. "Not only will you get the right frequency response to play direct, but you can get the right 'feel', too".
Check out the pedal in action here:
Pre-order at $135. More information at dsmnoisemaker.com.The post DSM Noisemaker unveils the OmniCabSim Mini appeared first on The Guitar Magazine.
Source: www.guitar-bass.net