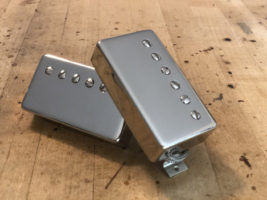 Sheptone introduces the brand-new Tribute 2 pickups
This set of Gibson-style PAF humbuckers serves up warm, soft tones. Sheptone has pulled back the curtains on its latest offering: the Tribute 2 Humbucker Set. The brand's new pickups are modelled after Gibson's iconic "Patent Applied For" (PAF) humbucker, with a few added appointments.
The pups are built with Alnico II degaussed magnets, which have a lower magnetic pull that contributes to excellent dynamics on the bridge pickup and eliminates muddier, darker tones at the neck. The pickups are also scatter-wound, which "creates more air space in the coil, enabling more treble to come through and slightly increasing the resonant peak of the pickup", according to the brand.
As far as hardware goes, Sheptone's new pickups boast butyrate bobbins, nickel silver base plates, long feet, and vintage braided lead wire.
You can customise the pups in a variety of configurations, including wiring, potting, bobbin colours, and cover finishes.
Retails at $129 (single) and $249 (set). More information at sheptone.com.The post Sheptone introduces the brand-new Tribute 2 pickups appeared first on The Guitar Magazine.
Source: www.guitar-bass.net