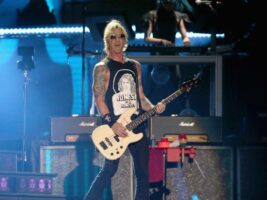 Duff McKagan's new song highlights Mental Health Awareness Month
Duff McKagan of Guns N' Roses has released a new solo song titled This Is the Song to highlight Mental Health Awareness Month.
READ MORE: Jon Bon Jovi names Jeff Beck as his greatest guitarist of all time
The song is part of a new EP of the same name, which also features two other tracks: Pass You By and It Can't Come Too Soon, and is McKagan's first solo project since his 2019 album Tenderness, which was produced by Shooter Jennings. This Is the Song is a country-tinged ballad that tackles McKagan's struggles with anxiety and depression, and how music helps him cope. The song ends with a hopeful note: "This is the song that's gonna save my life / And maybe yours too."
Listen to Duff McKagan's This Is The Song below.
McKagan has been open about his mental health issues, which he has dealt with since he was 16. "This Is The Song was written in the middle of a panic attack. I couldn't breathe and couldn't see straight, and lately, I have thankfully found my acoustic guitar as a refuge. If I just hold on to that guitar, play chords, and hum melodies, I can start to climb my way out of that hole," McKagan told  LouderSound.
"For those of you who have never experienced something like this, count yourselves blessed. To those of you who recognize what I am talking about: You are not alone!"
McKagan will be back on tour with Guns N' Roses this summer, starting from 5 August in Moncton, New Brunswick.
The post Duff McKagan's new song highlights Mental Health Awareness Month appeared first on Guitar.com | All Things Guitar.
Source: www.guitar-bass.net