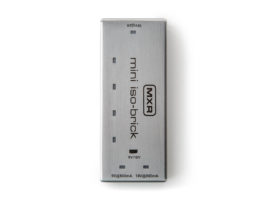 Dunlop unveils three new offerings
The brand's latest releases include a mini power supply, bass octave pedal, and a sparkly Way Huge drive/octave stompbox.
2018 has been a busy year for Dunlop. After releasing a slew of updates to its MXR and Way Huge lines, the brand has now launched three brand-new products: the MXR Mini ISO-Brick Power Supply, MXR Vintage Bass Octave, and Way Huge Purple Platypus Octidrive. Here's a brief overview:
MXR Mini ISO-Brick Power Supply
First up is Dunlop's newly minted power supply: the MXR Mini ISO-Brick. A smaller version of the ISO-Brick, this compact tool is great for a pedalboard with limited real estate, or the travelling guitarist. It's no bigger than a Snickers bar, but can power a wide range of pedals.
It boasts five fully isolated outputs, including four that supply nine volts of power at 300mA, and one that can supply either nine or 18 volts at 800mA. As these outputs are wired to handle both negative and positive grounds, they'll be able to power up a wide range of pedals, including most digital and analogue outfits.
With a splitter cable, users can connect two pedals of the same voltage requirements to a single output, and this can be applied to all outputs simultaneously.
The Mini is also loaded with LEDs that indicate whether a stompbox is successfully powered up. With this neat feature, it should be a breeze to isolate any faulty pedal in the signal chain.
Lists for $99.99.
MXR Vintage Bass Octave
New from MXR's mini pedal range is the Vintage Bass Octave, a tiny unit that serves up an impressive range of smooth, musical sounds ranging from thick, low growls, to gut-shaking dub tones.
The pedal features a straightforward three-knob layout. The "Dry" knob can be adjusted to dial in the right amount of clean signal, while the "Oct 1" and "Oct 2" knobs govern the volume of "one-octave down" and "two-octave down" settings, respectively.
For added clarity and definition, the "Mid" switch can be toggled to boost the clean signal's midrange at 800Hz by six dB. If that's not enough, users can adjust the internal trimpot to go up to 13dB.
This stompbox is equipped with Dunlop's Constant Headroom Technology, a custom circuit that caters for crystal-clear headroom by producing 18 volts from a nine-volt power source.
Lists for $159.99
Way Huge Purple Platypus Octidrive MKII
The Way Huge Purple Platypus Octidrive MKII, like its predecessor, melds the savage fuzz tones of a Way Huge Llama Overdrive with a frequency doubler that produces an octave-up effect. However, it's not all about the hair. The pedal can also deliver eerie, modulator-style effects. Its tone is shaped by "Volume" and "Drive" knobs, while a new "Hi-Cut" control is added to the mix for further tone refinement.
Lists for $149.99
More information at jimdunlop.com.The post Dunlop unveils three new offerings appeared first on The Guitar Magazine.
Source: www.guitar-bass.net