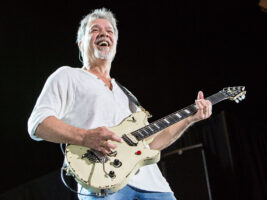 Eddie Van Halen almost had a cameo in the third Bill & Ted movie
While you might know that the godfather of rock guitar Eddie Van Halen had inspired the Bill & Ted movies, what you probably don't know is that the master himself very nearly appeared in the third film of the franchise.
READ MORE: Nita Strauss on working with Marty Friedman: "He's a perfectionist – he likes things the way he likes them"
In a new appearance on Darren Paltrowitz's The Paltrocast, actor Alex Winter – who played Bill S. Preston, Esq. in the sci-fi comedy franchise – reveals that Van Halen had in fact intended to be in the 2020's Bill & Ted Face the Music.
"We asked Eddie to be in every single movie and every single movie he said 'no.' So when we got to Bill & Ted 3 – and this is a somewhat bittersweet anecdote – we had a whole sequence which ended up being the Dave Grohl sequence," Winter says. "That's supposed to be [at Eddie] Van Halen's house."
He adds, "We went to Eddie, and we were like, 'Would you please, please be in the third movie?' He's like, 'You know what you guys, this one I would have done,' but he was dying at that point. He was already quite sick. He didn't tell us that he was literally gonna pass, but he was like, 'I'm not well and I can't do it. But I really appreciate these films. We all love them. And if I wasn't sick, I would absolutely come down to New Orleans and shoot this with you."
"So it had kind of a bittersweet end. It was a running joke in Bill & Ted amongst the little family of ours that every single movie we would be like knocking on Eddie's door, and he'd be like 'no' and slamming it, so it was not for lack of trying."
The post Eddie Van Halen almost had a cameo in the third Bill & Ted movie appeared first on Guitar.com | All Things Guitar.
Source: www.guitar-bass.net