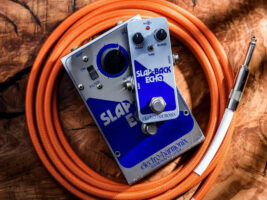 Electro-Harmonix reissues the Slap Back Echo with a few modern tweaks 
Electro-Harmonix has reissued a "1978 rarity", the Slap Back Echo pedal, with modern upgrades and a smaller pico-sized chassis.
READ MORE: Solar Guitars Chug Pedal review: It does the thing
The decision to re-issue the classic stompbox follows Josh Scott begging for the pedal to be brought back on The JHS Show, after giving it a glowing review: "Electro-Harmonix if you're watching this, I beg you to just re-issue this, or let me do it", he said back in 2021, and lo and behold, it's here.
EHX says the Slap Back Echo "takes the essence of one of rock guitars' most iconic effects and boils it down into an ultra-compact footprint without sacrificing modern flexibilities". This scaled-down reissue is an analogue delay with a single repeat, and can range from subtle doubling, up to wide and glimmering echo.
The late '70s gem hosts a Gain knob that controls the input signal before the echo circuit, and also adjusts the overall volume at the output with a boost of up to +20dB. There's a Blend knob to mix the dry signal and the echo signal from 100 per cent dry to 100 per cent echo.
There's also a Time switch which allows you to select between three different delay times: 45ms, 65ms, and 100ms. Have a look at the video below to check it out in play through a variety of styles:
The Electro-Harmonix Slap Back Echo is currently retailing for $81, you can find out more and locate your nearest dealer at ehx.com.
The post Electro-Harmonix reissues the Slap Back Echo with a few modern tweaks  appeared first on Guitar.com | All Things Guitar.
Source: www.guitar-bass.net