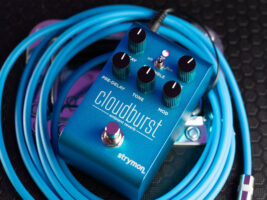 Strymon officially releases Cloudburst ambient reverb guitar pedal
Strymon has officially released its latest reverb pedal, the Cloudburst, following a leak earlier this week (31 January).
READ MORE: Strymon Flint V2 review – same great sounds, a new world of control
If we know one thing about Strymon, it's that it loves a good ole' reverb. Having released a healthy range of Sky reverb products, the brand has gained a respected rep, and also landed a 9/10 from us at Guitar.com for its BlueSky V2 pedal, which we deemed "more versatile than ever, and once again the cream of the high-end reverb crop".
This new pedal was originally reported on by Guitar Bomb, which cited its source as "an Italian dealer site". At the time, Strymon had made no official announcements about such an effect – but now, it's officially here.
The Cloudburst hosts five straightforward control knobs for Decay, Mix, Pre-delay, Tone and Mod, with a switch that adjusts an exciting new feature – the Ensemble.
Ensemble can be toggled from off, to moderately soft (marked as "mp", meaning mezzo piano), to forte which engages layered synthesised strings that adapt to your playing. With this switch turned on, if you change pickups or playing position on the neck, you'll get different results that organically follow your lead.
Check out the video below to hear it in action:
Strymon claims there is "literally nothing else quite like it", and has explained its simplistic design choice stating: "We wanted to create something that was easier to use than any product we'd ever designed. As a result, there are no secondary or 'hidden' functions on Cloudburst – it's controlled by just a few knobs and a switch, exactly as they're labelled, so you can dial up the perfect sound instantly with no fuss".
The Strymon Cloudburst is available now for $279, you can find out more at Strymon.net.
The post Strymon officially releases Cloudburst ambient reverb guitar pedal appeared first on Guitar.com | All Things Guitar.
Source: www.guitar-bass.net