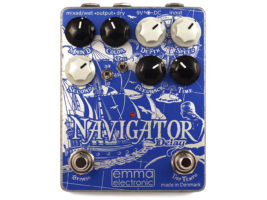 Emma Electronic announces the Navigator Delay
A hybrid pedal that can generate classic delay tones and unique sounds.
Emma Electronic has pulled out all the stops on its latest offering: the Navigator Delay. It's a compact delay unit loaded with an arsenal of effects, including a unique beat-split option and a dedicated digital modulation section.
Its most interesting feature is undoubtedly the beat-split delay effect. When engaged, this function produces a secondary delay voice – comprising 1/2, 2/3 and 3/4 interval presets – that can be paired with the pedal's primary delay or used independently to generate a wave of rhythmic delay sounds.
Another important feature is the Navigator's hybrid nature: both digital and analogue components shape its delay effect. The effect is first generated by a custom-coded DSP that caters for intervals that go up to one second. Delay intervals are further configured via tap-tempo and beat-split tools for a truly multi-tap feel.
The signal is then routed back to the analogue path, where "Colour", "Level" and "Feedback" controls can be adjusted to inject warmth and depth into the delay. The pedal also comes with its own digital modulation section that produces additional effects such as a tape echo, a lush chorus and a flanger.
With this much going on under the hood, the pedal's controls can be understandably complex. Here's a brief rundown of its various knobs and switches:
Time: Sets length of main delay repeats
Feedback: Sets amount of delay repeats
Main D: Sets level of main delay voice
Second: Sets level of beat-split delay voice
Colour: Governs tonality of overall delay effect
Speed: Sets modulation rate
Depth: Shapes modulation character
Tail Switch: Engages trails function
Beat-Split Switch: Selects between 1/2, 2/3 and 3/4 interval presets
Input Pad Switch: Internal DIP switch that selects between high- and low-level input signals.
Retails at EUR249. More information at emmaelectronic.com.The post Emma Electronic announces the Navigator Delay appeared first on The Guitar Magazine.
Source: www.guitar-bass.net