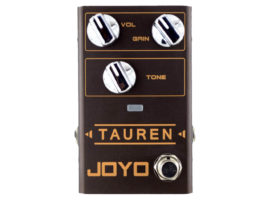 Joyo releases the Tauren Overdrive
An overdrive unit that harkens to old-school OD boxes.
Joyo has pulled back the curtains on the all-new R-01 Tauren Overdrive, the frontrunner of its R series of drive pedals.
According to Joyo, this no-nonsense OD stompbox will take you from "a clean boost , transparent overdrive through to warm overdrive / distortion". Its three-knob system is a nod to the classic Tube Screamer layout: "Volume", "Gain" and "Tone".
Apart from that, the pedal features an LED ambient lighting system that can be toggled to several settings. Gimmicky? Perhaps, but it could come in handy if you're stomping around on a dark stage. If nothing else, the Tauren seems like a decent dedicated practice overdrive unit — especially at its price point.
Lists for $54.99. More information at joyoaudio.co.uk.
The post Joyo releases the Tauren Overdrive appeared first on The Guitar Magazine.
Source: www.guitar-bass.net