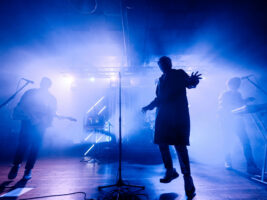 Enter Shikari reveal new album is "more intense than anything we've done before"
Enter Shikari have said their upcoming album A Kiss For The World is one of the most "varied" and "intense" albums they've done yet.
READ MORE: Keith Richards hints at new Rolling Stones music this year
The record, out on 21 April, has already had one song released as a single – (Pls) Set Me On Fire.
The British rock band's frontman, Rou Reynolds, talked to NME about the new song: "It was this explosive thing. That song encompasses the experience of the last few years.
"It's the yearning for transcendency, creativity and being able to connect with people.There's an intensity to it. It's got full verses of shouting or pitched screaming. It's one of the most anguish-filled songs we've done for a long time.
"It's got that original Shikari essence to it, really."
The new album was recorded in a farmhouse during early 2022 – a temporary studio space which Reynolds admitted used only solar power energy.
He said: "It was just us and our engineer George Perks, no in-house engineers, no assistant producers and no set way of doing things. It felt like making music in Chris [Batten's] garage as kids again. It had that same sense of naïve, endearing excitement."
He continued: "Maybe it's more intense than anything we've done before. Hopefully people can hear the exasperation and the jubilation. I think what makes it better is that it was all just natural. It's not finessed, it's quite raw.
"The only thing we spoke about amidst all the disorganised ideas was that we wanted to make a high energy album of bangers. Millennials and Gen Z – we don't like to wait for anything. We want our dessert before our main course."
A Kiss For The World will be the band's seventh studio album, following 2020's Nothing Is True And Everything Is Possible.
Elsewhere in the year, they'll also be headlining Slam Dunk Festival 2023 alongside The Offspring.
The post Enter Shikari reveal new album is "more intense than anything we've done before" appeared first on Guitar.com | All Things Guitar.
Source: www.guitar-bass.net