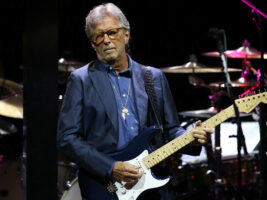 Eric Clapton to headline Beverly Hills Gala for RFK Jr
Eric Clapton is set to headline a gala taking place in Beverly Hills in the US on 18 September as part of a campaign fundraiser for conspiracy-theorist and vaccine skeptic Robert F. Kennedy Jr, who is hoping to run as the Democratic presidential candidate in 2024.
Clapton will perform live at the event, and ticket prices to attend start at $3,300, up to a maximum of $6,600.
READ MORE: "When people underestimate what he does – they want to try doing it": Eric Clapton praises Robbie Robertson 
Those paying the maximum contribution will have access to a private reception with RFK Jr. himself and "special guests", whilst the package of $3,300 "includes remarks by Mr. Kennedy and [the] special performance".
Please join Eric Clapton and me in LA for a special campaign fundraiser + private musical performance! #Kennedy24
Purchase tickets here: https://t.co/EoiDqqOm8l
— Robert F. Kennedy Jr (@RobertKennedyJr) August 31, 2023
Last month (August) Clapton addressed his attempt to donate to Kennedy's presidential campaign, which he referred to as "naive". The musician had formerly tried to donate $5,000, but his attempt was invalid as Clapton is not only an British citizen, but his donation was also over a limit of $3,300.
As we have previously reported, Clapton describes himself as a "fan of freedom", yet for the last couple of years, he's shown considerable support for vaccine-sceptic figures such as Kennedy. He has also released music which voiced his disapproval of the lockdowns, and appeared in a lengthy video about his vaccine experience wherein he shared unsubstantiated claims about its effect on fertility.
Kennedy recently faced backlash for comments he made suggesting that COVID-19 was "ethnically targeted," as he claimed at a dinner in new York that "COVID-19 attacks certain races disproportionately". His remarks were recorded and published by the New York Post.
"COVID-19 is targeted to attack Caucasians and Black people. The people who are most immune are Ashkenazi Jews and Chinese [people]," he continued.  "We don't know whether it was deliberately targeted or not but there are papers out there that show the racial or ethnic differential and impact."
Kennedy later posted a video statement, saying: "Nobody has suggested that these were deliberately engineered changes and I certainly don't believe that they were deliberately engineered," he said.
The post Eric Clapton to headline Beverly Hills Gala for RFK Jr appeared first on Guitar.com | All Things Guitar.
Source: www.guitar-bass.net