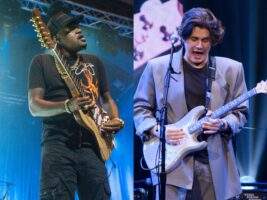 Eric Gales publicly invites John Mayer to perform with him onstage
Iconic blues guitarist Eric Gales has publicly reached out to John Mayer – encouraging the musician to collaborate with him, and join him onstage "soon".
READ MORE: John Mayer receives prototype recreation of Jerry Garcia's famed Wolf Guitar
Gales, who has already performed alongside some of the biggest names in guitar history, reached out to the musician online on Saturday (14 January). Here, he urged Mayer to find a way that the two can perform together, ideally, in the near future.
"I have played with a lot of my friends and idols over the years and very lucky to do so. I've shared the stage with Carlos Santana, Joe Bonamassa, Eric Johnson, Gary Clark Jr. and many others" Gales wrote in the Instagram update.
"But one doode I have never played with is John Mayer. I would love to do that soon. Where you at, John Mayer? Let's do this. I'll come to you," he added.
View this post on Instagram
A post shared by Eric Gales (@ericgalesband)
Historically, Gales' collaborations with other legendary guitarists have proved to be a hit among fans.
Back in 2021, the blues player developed what would soon be regarded as one of the biggest hits of the year – teaming up with Joe Bonamassa for the lone single, I Want My Crown. Check out the track below.
While Mayer has yet to publicly respond, it seems likely that a collaboration may be on the cards. Over recent years, the former pop singer-songwriter has reinvented himself as an impressive blues musician, and established himself as one of the most influential guitarists of the current day.
Eager fans have already begun speculating how the two could collaborate. As some suggest, this could potentially take place at an upcoming festival, which they are both scheduled to perform at later this year.
"Isn't [John Mayer] with Dead & Co? You both are playing the New Orleans Jazz & Heritage Festival that's coming up. There's a golden opportunity!" one user commented.
Currently, Mayer is on tour with Dead & Company, as part of the band's final stint. In addition, Gales is also set to hit the road soon, with live dates spanning February, March, April and August.
Further updates are expected to be announced on Eric Gales' Instagram page.
The post Eric Gales publicly invites John Mayer to perform with him onstage appeared first on Guitar.com | All Things Guitar.
Source: www.guitar-bass.net