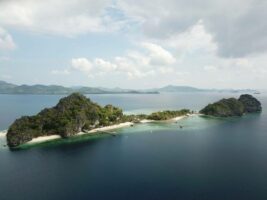 Guitar YouTubers will be placed on a remote island and put some gear to the test
Next month will see some of the most recognisable guitar YouTube channels be castaway to a remote island – where they will be experimenting with gear for two weeks.
READ MORE: Steve Vai's missing "Swiss Cheese" guitar found in a Tijuana attic after 36 years
Named G.A.S.TAWAY – 42 Gear Island, the event is organised by 42 Gear Street – a brand that forms lasting relationships between musicians, gear companies and brand representatives.
Taking place between 1 February and 14 February, the guitarists from a host of popular YouTube channels will be sent to an isolated island in the northern region of Palawan, and left with an abundance of gear that they need to put to the test.
YouTube personalities taking part in the documented reality series include Carlos Ascensio (Guitarraviva), Tom James (Elevated Jam Tracks), Andy Ferris (The Guitar Geek) and Glenn Fricker.
Although precise details about the gear taken to the island remain sparse, the event is sponsored by brands such as Yamaha, Sennheiser, Walrus Audio and Sweetwater – giving us a clue at what types of equipment may be featured.
Gear-related discussions, lessons and reviews are expected to feature in the upcoming footage. However, the organisers state that some more extreme challenges will be put forward too – including Surf Guitar on a Surfboard, Stratocastaway, Riffs in a Reef and Love Island- Guitar Edition.
Approximately fifty videos are expected to be made during the two weeks, and the developers confirm that there will be no brand reps included. Instead, the event will be made simply using the nine YouTubers, paired with an assortment of gear and some high-end camera equipment.
After it has taken place, equipment donated for the reality challenge is set to be donated to local musicians. This will be done during an upcoming concert, scheduled to take place in nearby city, Puerto Princessa.
Find out more about the event in the YouTube update below.
The post Guitar YouTubers will be placed on a remote island and put some gear to the test appeared first on Guitar.com | All Things Guitar.
Source: www.guitar-bass.net