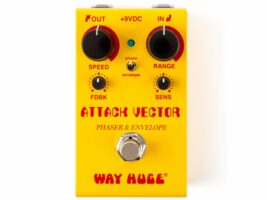 Dunlop's new Attack Vector combines a phaser and envelope in one handy enclosure
Dunlop has unveiled its new Attack Vector pedal, which combines both phaser and envelope into one compact unit.
READ MORE: EarthQuaker Devices reveals silver version of the Sunn O))) Life V3 pedal
Said by the brand to be the ideal pedal for musicians who like to take risks with their playing, the latest stompbox is part of Dunlop's Way Huge Smalls range.
Combining both phaser and envelope effects together into one neat – albeit vibrant – little package, the Attack Vector is designed to create a countless number of unconventional effects.
Using the switch located in the middle of the unit, users can choose to use the phase shifter and envelope filter isolated from one another, or simply flick the switch to the middle option to blend the two together.
Whether using the effects separately or combining both together, players are allowed to tweak parameters and hone in on their desired sound. Even better, by using both simultaneously, a near-endless range of unique sound options are waiting to be explored.
Controlling and adjusting how the two effects intertwine couldn't be easier as there are just four controls on the pedal.
Phaser controls are located on the left side of the pedal. Here, the Speed dial allows users to control the rate of the phase cycle, and the smaller feedback dial provides the option to increase resonance and generate more vocal character.
Similarly, the controls for the envelope filter are mirrored on the right side. The larger Range dial in the top corner controls the peak of the envelope, while the smaller Sensitivity dial located below adjusts signal dynamics.
The Attack Vector also works just as well with electric bass as it does with electric guitars. However, the pedal isn't for the faint of heart, the brand insists, as the range of gritty, off-kilter sounds captured are designed for those seeking a 'sonic voyage' in their sound, not for those looking to play it safe.
The Way Huge Smalls Attack Vector is available now for $200. Find out more on Jim Dunlop's website.
The post Dunlop's new Attack Vector combines a phaser and envelope in one handy enclosure appeared first on Guitar.com | All Things Guitar.
Source: www.guitar-bass.net