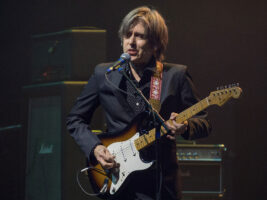 Eric Johnson is the latest player to dabble with digital amp modelers – but he's not convinced quite yet
You'd be forgiven for assuming digital amp modellers are for more tech-savvy guitarists. But you'd also be wrong. Thanks to the rapid advances in technology from the likes of Kemper, Neural DSP and Fractal Audio, more and more guitarists who you might associate with more traditional amplifiers are overhauling their rigs.
Eric Johnson is one such name. The Cliffs of Dover guitarist has long turned to Fender and Marshall amps for his legendary tones, but even he's showing signs he's tempted by these new-age amp modellers.
READ MORE: Nuno Bettencourt on playing guitar for Rihanna: "It was cool to destroy some of those songs"
Speaking in a new episode of the Dipped in Tone podcast, Johnson reveals he's been dipping his toes into the sphere, experimenting with Neural DSP's Quad Cortex.
"I'm experimenting with the Neural DSP [Quad Cortex] right now and we're capturing sounds and I'm gonna keep capturing sounds on it," he explains. "The company has been gracious to allow me to work with a unit."
He adds that while he's not sure digital amp modellers will ever take a permanent position in his rig, he's "encouraged".
"I think that concept gets better all the time. I don't know if it'll ever completely replace the [original] stuff but I've been working with Neural. We've done a few captures so far and I'm like, 'Wow, I could almost use that – it's pretty close.' I'm going to continue working with it and see what I can do with it."
Johnson adds that despite his somewhat successful dabbling with the Neural DSP Quad Cortex, he remains a lover of traditional gear.
"There's certain things that I love. The old Marshall sound," he says. "They're just super simple circuitry like [Fender] came up with in the late '40s with the Tweed Bassman. A lot of times, the simpler the path of the electronics, the purer the tonality is."
He adds that the newer tech doesn't "sound like my mentors and heroes that I grew up on," and that they contrast with what he would "consider a natural guitar tone".
Elsewhere, the guitarist stresses the importance of guitar technique and the player over the gear they use.
"The gear's really secondary," he says. "I wish I could say that I always ascribed to that belief. I went through years and years of, 'Oh, the gear…' and I still do to a certain extent but I've become a little bit more detached from it because it's like a rabbit hole. I would say to anyone chasing that; don't go so deep in the rabbit hole that you just analyse too much."
He continues: ""Really, three-fourths of it comes from just your intention and the way you play guitar – the way you pick the guitar, the way you mute the guitar, the way you finger the frets. And that's why you can take a lot of different players and put them on any gear and they're still gonna kind of sound like them."
The post Eric Johnson is the latest player to dabble with digital amp modelers – but he's not convinced quite yet appeared first on Guitar.com | All Things Guitar.
Source: www.guitar-bass.net