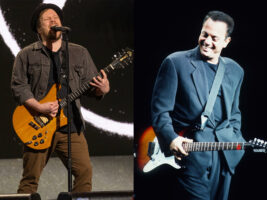 Fall Out Boy update Billy Joel's We Didn't Start The Fire with headlines from the past 34 years
Fall Out Boy have released an updated version of Billy Joel's We Didn't Start The Fire, swapping its lyrics with references to news events from 1989 to 2023.
READ MORE: Guitar teacher John Wines on his face-melting America's Got Talent audition: "Whatever happens now, I've achieved what I wanted to achieve"
For those who aren't familiar with the 1989 classic, Joel includes references to significant news stories that took place between his birth in 1949 and the song's release, including American spies Julius and Ethel Rosenberg leaking information to the Soviet Union, the coronation of Queen Elizabeth II, Elvis Presley's death, and 178 more.
Now, Fall Out Boy's version takes the classic song and flips it on it's head, using some of the most important stories from the past 34 years. Topic highlights include MCR's The Black Parade, Kurt Cobain, MySpace and of course, Brexit.
"I thought about this song a lot when I was younger," the band writes on social media. "All these important people and events – some that disappeared into the sands of time –others that changed the world forever.
"So much has happened in the span of the last 34 years – we felt like a little system update might be fun. Hope you like our take on it."
View this post on Instagram
A post shared by Fall Out Boy (@falloutboy)
Since its release, fans have been sharing their thoughts on the updated tune.
"Just forced myself to listen to the Fall Out Boy we didn't start the fire… I am 100% certain that it was written by Chat GPT," writes one commenter.
"Really well done, slightly marks off for not being chronological but captures a lot of the craziness of the last 34 years," says another.
"Everyone's been talking about how the Fall Out Boy We Didn't Start the Fire cover rhymes George Floyd with Metroid but no one's been mentioning an equally egregious rhyme of Oklahoma city bomb(ing) with fucking Pokémon," says another.
According to the band, the 7″ version of the track is available, but is limited to 5,000 copies.
The post Fall Out Boy update Billy Joel's We Didn't Start The Fire with headlines from the past 34 years appeared first on Guitar.com | All Things Guitar.
Source: www.guitar-bass.net