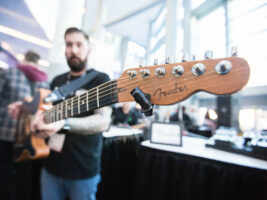 Fender CEO Andy Mooney explains why there's no Fender at NAMM 2023
Fender CEO Andy Mooney has spoken about why the Big F will — once again — not be making an appearance at this year's NAMM show.
READ MORE: Did John Mayer just debut a new PRS SE Silver Sky on stage?
With its second in-person event since the pandemic scheduled to take place just a week later, NAMM 2023 will see the likes of Ibanez, ESP and Yamaha appearing on its floor. Though just like last year, some of guitar's biggest names including Gibson, PRS and Fender have all opted against attending the show
Speaking to Guitar World, the Fender executive explained how the brand came to the decision to skip NAMM and focus their resources elsewhere instead — a move born out of necessity during the pandemic that turned out to be, as Mooney claims, better for both the brand and the industry.
"What happened was, out of necessity during COVID, people experimented with other approaches and have found that they are actually not only better for the brands but better for the industry," he says.
Asked if the Big F will be making its return anytime soon, Mooney replies, "On the one hand, I never say never, but the biggest trade show that's in Los Angeles is E3, and this year Sony, Microsoft and Nintendo have all said they're not going." [Editor's note: E3 has since been cancelled.]
"In our case, it costs to set up the booth, have everybody there — that's a substantial bill. What happens during NAMM which always used to make me pull my hair out is, we'd only get to spend an hour with major retailers. We weren't reaching deep into the organisation, and you couldn't really romance the products or anything."
With online events, on the other hand, "what we found was we were reaching 5,000 dealers, we were reaching much deeper into the organisation at just a fraction of the price, and we were doing more business," Mooney explains.
"And the money that we weren't spending, we could take that and plough it into demand creation to drive digital traffic into their online stores and foot traffic into their physical stores."
That said, a return to the industry's biggest trade show is still on the cards, but only if "NAMM can prove to me why it's better for the industry", says the executive. "At the moment I'm kind of scratching my head as to how we're going to do that."
The post Fender CEO Andy Mooney explains why there's no Fender at NAMM 2023 appeared first on Guitar.com | All Things Guitar.
Source: www.guitar-bass.net