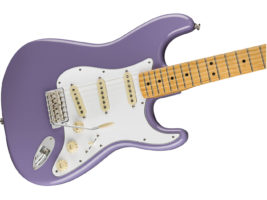 Fender releases Jimi Hendrix Stratocaster
Previewed at Summer NAMM, this signature Strat is now up for grabs.Hendrix fans, have we got news for you: Fender has officially launched the Jimi Hendrix Stratocaster, and there's a limited-edition finish available.
This is not the first Hendrix signature to hit the market – and it certainly won't be the last – but this one is perfect for the fan who wants some "Voodoo Chile" flair, but doesn't have a pocket full of cash to burn.
Getting straight into the features, this Strat has a reverse headstock, which is a nod to Hendrix's tendency to play a right-handed model "flipped-over". To capture his incendiary tone and distinctive style, the axe also has three reverse-mounted American Vintage '65 single-coil pups. The bridge pickup is mounted at a reverse slant, "generating warm sound with enhanced upper harmonics and definition on the bass strings while adding girth to the treble strings", Fender says.If that's not enough Hendrix for you, the guitar also features an engraved neck plate and a signed headstock.
Otherwise, the axe features standard Strat specs, including an alder body, maple neck and fingerboard, a "Master Volume" and two "Tone" knobs and a five-position blade switch. The Jimi Hendrix Stratocaster is available in three finishes: Sunburst, Olympic White and a 2018 limited-edition Ultra Violet.
Retails for $899.99. More information at fender.com.
The post Fender releases Jimi Hendrix Stratocaster appeared first on The Guitar Magazine.
Source: www.guitar-bass.net