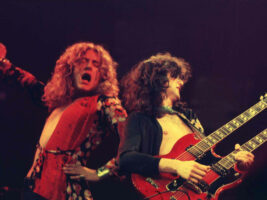 Following re-edits, Led Zeppelin documentary is now changing its name
Becoming Led Zeppelin, the long-awaited Led Zeppelin documentary charting the origins of the rock band appears to have undergone a recent title change.
READ MORE: Paul McCartney didn't want to visit childhood Liverpool home on Carpool Karaoke
As reported by LedZepNews, the name change was spotted on the film's listing on the website of Altitude Film Sales, the company hired by the filmmakers to sell it to distributors.
The site had dropped the word 'Becoming' from the film's title i.e. it's now named just Led Zeppelin though the film's description remains largely similar.
First announced in 2019, Becoming Led Zeppelin was touted as the first-ever band-sanctioned Led Zep doc, featuring exclusive interviews with the three surviving members of the band — Jimmy Page, Robert Plant, and John Paul Jones. The film also boasted archival interviews with late drummer John Bonham, as well as previously unseen photographs and video footage of the band.
Despite the hype, Becoming Led Zeppelin premiered at the 2021 Venice International Film Festival to mixed reviews, and the buzz surrounding the feature-length doc gradually faded as little details emerged about its release.
Several reviews criticised the allegedly excessive 137-minute runtime at the time, with The Hollywood Reporter calling it "an overlong but essential, joyous portrait"
The film's most recent update arrived last September, when the administrator of Led Zeppelin's official forum announced that the film is being re-edited.
"I understand they are nearing the end of the edit and have been taking advantage of the time to make the film as good as possible. I have seen the film in several stages and think it is an extraordinary piece of work that I hope we all get to share in soon," Sam Rapallo wrote.
"As the filmmakers have told me, they'll continue to be on the search for unseen archive from the period the film covers all the way until the film is released, so if anyone has anything they would like to send their way, please reach out to me. A few new gems have been added since its public screening last year."
The post Following re-edits, Led Zeppelin documentary is now changing its name appeared first on Guitar.com | All Things Guitar.
Source: www.guitar-bass.net