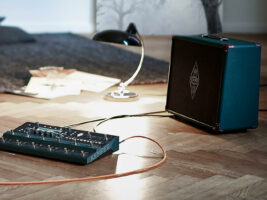 Fractal Audio head accuses Kemper of patent infringement over Liquid Profiling
Fractal Audio has taken to its forum to accuse Kemper of patent infringement over Liquid Profiling.
READ MORE: Electro-Harmonix is unleashing demons with its new Hell Melter distortion
The potential legal issue came to light in a now-deleted Fractal forum post made on 3 May by the official Fractal Audio account. under the title "Kemper Liquid Profiling…", where the Fractal account wrote: "Liquid Profiling is a blatant infringement on my patent".
Screenshots of the post were shared on YouTube by ToneJunkieTV, who was also the one to speak to Christopher Kemper about Liquid Profiling initially.
According to Kemper, the yet-to-be-released Liquid Profiling allows users to extract the exact tone and feel from any amp – this not only captures the amp itself, but every aspect of the cabinet and microphone configuration – and the amp's tone stack. According to the manufacturer, this is the first time that guitarists are no longer "shackled" to the tube amplifier as the only way to achieve "that sound".
As explored by ToneJunkieTV there are two active patents by Fractal that could relate to this patent, one being 'Amplifier matching in a digital amplifier modelling system', and the other being 'Automatic AMP Matching'. However, there is no indication that either of these directly relate to Kemper's liquid profiling.
As Fractal has removed its forum post, it's unclear whether it will pursue legal action based on this alleged infringement. Another thing to consider is that Fractal is a US-based company, whereas Kemper is German. As it is a US patent, according to the United States Patent and Trademark Office, it does not afford protection in another country, such as Germany. Despite this, it is unsure as to whether Fractal has a claim, as Kemper does sell products in US, and therefore might still be impacted by this patent.
Fractal did not immediately respond to a request for comment when approached by Guitar.com. Kemper similarly declined to comment.
The post Fractal Audio head accuses Kemper of patent infringement over Liquid Profiling appeared first on Guitar.com | All Things Guitar.
Source: www.guitar-bass.net