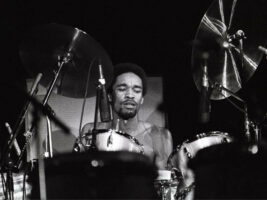 Fred White, former Earth, Wind & Fire drummer, has died aged 67
It has been announced that former Earth Wind & Fire drummer, Fred White has passed away, aged 67.
The news was broken on Sunday (January 1), by Verdine White, the drummer's brother and former bandmate. The cause of death has not yet been announced.
"Dearest Family Friends and Fans…..Our family is saddened today with the loss of an amazing and talented family member, our beloved brother Frederick Eugene "Freddie" White," the statement read.
"He joins our brothers Maurice, Monte and Ronald in heaven and is now drumming with the angels! … He will live in our hearts forever, rest in power beloved Freddie!! We thank you all for your love, blessings and support at this time."
View this post on Instagram
A post shared by Verdine White (@verdine_white)
Born in Chicago in 1955, White first began drumming aged nine, and started his career as a musician by performing alongside American soul vocalist, Donny Hathaway.
However, it was only when joining his brothers, Verdine and Maurice White, in the band Earth Wind and Fire in 1974 that the musician reached his career heights.
Fred White remained part of the band's iconic lineup for eight of their albums. He was responsible for co-creating some of their most famous tracks, including September and Boogie Wonderland.
White parted ways with the band at the beginning of 1980, however, was inducted with the other members into the Rock and Roll Hall of Fame in 2000.
The post Fred White, former Earth, Wind & Fire drummer, has died aged 67 appeared first on Guitar.com | All Things Guitar.
Source: www.guitar-bass.net