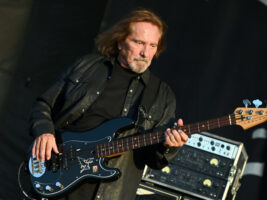 Geezer Butler says he's retired: "I don't want to do anything anymore"
Black Sabbath bassist and lyricist Geezer Butler is now retired after more than 50 years in the music business.
READ MORE: Fender just partnered with Yves Saint Laurent on a range of guitar gear – and it's as expensive as you'd expect
The heavy metal icon reveals his plans for the future to Rolling Stone in a new interview about his new memoir, Into The Void: From Birth To Black Sabbath – And Beyond.
"I don't want to do anything anymore," Butler remarks, explaining that he'd arrived at the decision before the pandemic while on the road with his supergroup Deadland Ritual.
"I didn't realise how hard starting from scratch is, especially when you're used to your own plane and staying at the Four Seasons and the Ritz-Carlton… and then you're back in little clubs and getting on a bus together. It just didn't suit me," he says.
Butler adds that while he's open to doing one-off shows and special gigs such as the Taylor Hawkins tribute further down the line, he's done with touring for good. The musician has also ruled out any new activity with longtime band Black Sabbath.
"I don't think Ozzy's up for it anyway," Butler says.
Elsewhere in the chat, the bassist also shares how his father wasn't always supportive of his music venture, saying "My dad wasn't really OK with my music career until I actually showed him the first album, that we'd done something,"
"He thought I was just throwing away the chance of a lifetime because I was the only one out of the family that had got an office job. He just thought I was throwing all that away for some pipe dream. And when I finally came home with an album to show him, that's when he started to understand."
The post Geezer Butler says he's retired: "I don't want to do anything anymore" appeared first on Guitar.com | All Things Guitar.
Source: www.guitar-bass.net