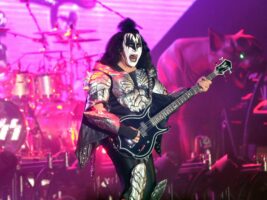 Gene Simmons on sleeping with nearly 5,000 women: "We wanted to be The Beatles on steroids"
KISS'S Gene Simmons has given some insight on the absurdly high number of women he's rumoured to have slept with across his time as a rockstar.
READ MORE: Tim Henson says Berklee rejection got him into Polyphia "for real"
In an interview with The Sun, the KISS bassist has said that he's "heard all about those numbers" when asked about the rumoured 5,000 women he's slept with over the years.
Hearing a claim like that, you might think, to what extent is that rockstar posturing? But in any case, Simmons claims they're true. saying to the Sun simply: "Confirmed."
"For me, an insane heterosexual male, party means girls," he continued, before adding (seemingly without self-awareness): "I was like a vulture… waiting on the sidelines until all the guys got drunk."
"But the prettiest girls didn't get drunk so I'd walk in and choose whichever — as you Brits say — birds I liked."
"We wanted to be The Beatles on steroids," says Simmons. "We couldn't shine their boots, not in our wildest dreams, but we were completely inspired by them.
"We loved the idea of four guys in a band where everybody is a star and everybody sings. Only The Beatles had done that. That show made The Beatles in the States," says Simmons. "You were immediately struck by the sound of girls screaming. And I thought, 'Well, that's a good job!'"
KISS has recently announced that their End Of The Road tour is coming to an end. This is after months of extending shows, and subsequent backlash from musicians such as Dee Snider, who said that the only reason they keep putting on shows is due to the "desire" of "more money".
Their last show will take place in early December at New York's Madison Square Garden for two consecutive shows. These shows will mark the band's 50 year career.
"KISS was born in New York City. On 23rd Street. Half a century ago. It will be a privilege and honour to finish touring at Madison Square Garden, 10 blocks and 50 years from where we first started," the members stated in a new post.
Tickets for the rest of the KISS End of The Road Tour are still on sale. You can visit KissOnline.com for more information.
The post Gene Simmons on sleeping with nearly 5,000 women: "We wanted to be The Beatles on steroids" appeared first on Guitar.com | All Things Guitar.
Source: www.guitar-bass.net