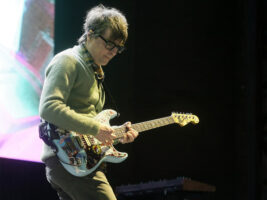 Rivers Cuomo thinks Weezer may have put out "too much" music
Weezer vocalist and guitarist Rivers Cuomo has stated that the band may have released "too much" music.
READ MORE: The Genius Of… The Blue Album by Weezer
In hindsight, the Buddy Holly singer believes it would have been more "impactful" for them to have cherry picked the best material. The pop-rock band have 15 full-length studio albums in their discography, which they have put out since their formation in 1992.
Speaking to Flea of Red Hot Chili Peppers on his podcast, This Little Light, Cuomo explained how he felt about the mighty Weezer catalogue, as Flea remarked that the band have put out a "boatload" of songs. He said: "I don't understand how I ended up here. I think, if I were to go back and plan out the ideal artist's career, I don't know – maybe there's too much quantity."
He continued, "Maybe the whole thing would be more impactful if we could go back in time and just release the very best stuff. Cherry-pick and release it in a very strategic way. But hindsight is 20/20, and hopefully future generations will sort it all out and they'll focus on the best stuff."
No specific songs or records were named by Cuomo as ones he would have specifically picked out to release, but the pair did agree that the newer generations of musicians are more concise when it comes to selecting what they put out. You can listen to the podcast below, where the pair discussed the Weezer catalogue at the 45 minute mark:
And given the large amount of music Weezer have officially released, it makes sense that Cuomo has over 2,000 raw demos in his back pocket, which he put up for sale in 2020 via a website he built himself.
Weezer are heading out on tour this June. Find out more at Weezer.com.
The post Rivers Cuomo thinks Weezer may have put out "too much" music appeared first on Guitar.com | All Things Guitar.
Source: www.guitar-bass.net